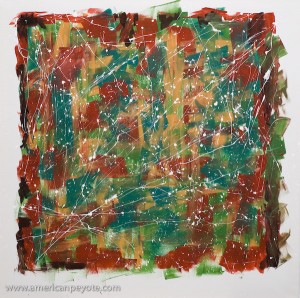 I love photography, I love Photoshop, I love the freedom to create and define a vision from my head. But there's always that separation, that feeling of disconnection between the tool (cameras, lenses, lights, computers) and the vision (the one from my head). So it was logical step to say, screw it one day. At a shop in Zurich I found 1 x 1 meter square canvases and at the home improvement store I found latex paint for less than 7 CHF per 500 ml. I few more franks went to brushes and plastic to cover a room of my Winterthur apartment and protect my security deposit. I traded my Wacom tablet and Photoshop for the ability to splatter paint as I pleased without the "undo" button.
Music stopped in the background and I realized why artists go mad…because, what's more frustrating than painting a black stroke when in your head you know it should've been green? NOTHING! Nothing compares to the idea that you start with a pure white nothingness and from nothing, without barely a forethought or premonition comes, something. That something is undefined and unknowable and abstract and everything that a fool can hope for when the mind is empty.
I documented the evolution of my Lazy Art with my Minolta 7D and a Sony 50mm macro lens. Lighting provided via a Sunpak 383 in a small Alzo softbox. The result is an Artcast, an experiment in communicating and showing the evolution of the vision from the first to last color addition. Music brings the madness, and this addition seemed appropriate.