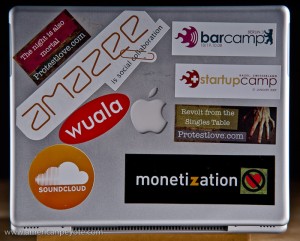 Web Monday Zurich #13 was held at the offices of Wuala in Zurich (I took a sticker for my laptop), and covered such lovely topics as why companies fear Facebook, the history of the music industry and the visual searching tool I always wanted but never knew existed. I had a headache during the presentations, but that didn't deter from the coolness of the tech evening from settling into my neuron flow. To join future Web Monday meetings check out the Web Monday Zurich project on Amazee.
I can't say where the pain in my head came from exactly, some combination of being sick last week, finishing a review of a new electroactive polymer paper, ski touring towards the Wildstrubel (before recovering) in a snow storm and building up an image of a beautiful woman next to a nuclear mushroom cloud is bound to put pressure on essential areas of my neural networks. Plus I think I need new glasses.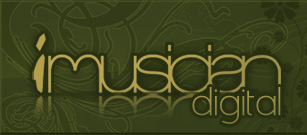 According to the book "Neuro Web Design: What Makes them Click?" (which I read for the last UX Book club Switzerland ), people love stories, and if you start one everyone will be captivated. This explains why iMusicianDigital AG was my favorite presentation of the night, because it was mainly a story, that of the music industry from the 1990's till today.
The 90's were the golden age of the music industry. People went crazy buying over-priced CDs and more money was made in this time than at any other time in the history of the industry. Then, around 2001 broadband hit along with cheap CD burners and P2P networks, and all the consumers who were pissed off at paying $20 for an album on CD with two good songs and a lot of crap on it were all too happy to pirate as much music as possible (this last part is my own take on the history). CD sales dropped and there was a 20% sales decline per year. Discount CD sales were pushed by big retailers like Media Markt and Best Buy (in the US) who lost money on CDs but made a killing on other stuff (first get them in the stores). While this all went down the local retailers and cool CD shops where put out of business…and now where are we?
Now it's estimated that 60% of the music we consume is pirated in some way or another. Why? There is a theory, purported in books like "Free" and "Economies of Abundance" that the value of things like images, music, movies, and other media will always tend to zero in the long run (like your survival rate). So how does one make money on something with a declining perception of monetary value like a music album?
Well, first off, in the traditional model of the music industry there was no real-time accounting and the administration of selling music was very inefficient. In the new model, such as with iMusicianDigital the content is user generated whenever possible. An artist creates an account, uploads the album as uncompressed audio and that music is distributed to iTunes, Amazon, etc. The musician sees real-time stats for where the music is bought, what countries, how much, when, and is paid in a timely manner.
How successful an artist is financially is dependent on much more than the distribution system. The savvy musician needs to build a fan base, often through live shows (connect the poetry to the reader) and now through social networking tools like Facebook, MySpace, etc. It's like anything else, you need some way to connect to the fan base and develop a community.
iMusicianDigital is attempting to fill that niche, that area of the music industry which is in flux. Artists upload their album and a little while later it's available on iTunes, Amazon, etc. It's interesting for me to learn about this stuff, because I want to the a similar thing with self-published books. Seeing how music is distributed and promoted online is similar to the publishing-on-demand business models for books, putting the promotion and marketing of the material in the hands of the creator.

Raphael Briner from HyperWeek gave the first presentation of the night about developing online social networking communities (think Facebook) for businesses. Why do businesses need his company? Because it's too hard to build the platforms up from scratch. A few examples were shown including stackoverflow.com and it's cool to hear about the development of this stuff. However, since I'm a consumer and am now overloaded with Facebook, Twitter, Tumblr, my blog and Flickr, I stood around wondering when I'm going to actually start shooting pictures again (yes, my mind wanders, the result of too many social networking sites).

The last presentation was for Oskope, the visual search and find design I've always new was possible, and continually frustrated when it didn't exist. The concept of Oskope was originally presented two years ago, but this was the first I'd seen of it (I'm often oblivious to the world, I admit it). The idea of Oskope is to present products as images, allowing you to search visually and have the image products grouped in a certain way that you can better find what you were looking for. Ever tried searching for "Shoes" on Amazon? I've even tried using eBags to find a cool leather bag, and ended up going to Scaramanga in the UK. To be fair, Scaramanga sells some of the coolest vintage bags I could imagine (perhaps I'm just shallow) but the point is that sites like Amazon are really a cluster-fuck to search through unless you specifically know what you want (or just accept what they want to see to you).
For me Oskope is a window into how online shopping should be done. But the technology is distributed in a licensing model, and till now I never knew it existed. So where is the value in it? Promote it, get in online stores, revolutionize my online buying experience. If Oskope gets ported to Android (and as well the iPhone and iPad) I think it will really take off, as it's the exact type of shopping experience a touch device consumer will love.