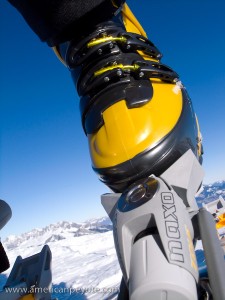 Some time in 2005 I walked into the Oerlikon outlet store of Baechli Bergsport and picked up a pair a yellow and grey Lowa Evo ski touring boots. They were on sale and I thought, "ski touring, always wanted to do that." In the winter of 2008 I bought a pair of NAXO N02 touring bindings, a pair of Atomic skis, Black Diamond skins, a BCA avalanche beacon, Black Diamond probe…ready to realize my ski touring dream.
Dreams take time though, they need to develop over a certain period, especially something like touring. I hadn't been on skis in like three years and I wasn't in the avalanche dodging mood. My idea was to start out small and build up to some real mountain tours. So on a Lazy Swiss Sunday I decided to head to Pizol and tour around the avalanche (theoretically) free area of the Pizol ski area in Eastern Switzerland. Pizol is one of those all-inclusive winter sport places. You can ski, snowboard, winterwandern, paraglide, snowshoe, ski tour, whatever involves snow, they even do igloo adventure trips. I wanted an easy day so I took the gondola up the first station and then toured up the snowshoe trail to the top of the ski resort. I packed along an assortment of accessories including crampons, snow shovel, avalanche beacon and an ice axe. Not that I needed all of this to tour in a ski resort, but I figured I should load up my Osprey Exposure pack and train my legs. Plus, I felt fly in my mountaineering gear. I generally only use these things for ego-inspired photo shoots, so it was a joy to use my mountain stuff for a utilitarian purpose. Naturally I also packed along my Ricoh GR Digital, that fantastic high-quality compact digital camera that just fits in your pack, no matter what mountain you're heading up.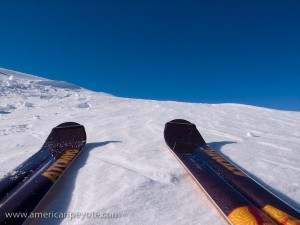 At Pizol you have the option of heading on from the resort for another 600 vertical meters to the Pizol summit, but as I was alone, I decided to stay out of the backcountry. Avalanches sound like trains, and it's ill-advised to stand in front of either one. I've had the pleasure of having an avalanche come down on me in Colorado, a pleasure as I 'm still here to talk about it. It's good to experience some things ONCE, and that once was once enough. At Pizol the weather was fantastic above 1500 meters. Down below in the valley was Das Nebelmeer, German for sea of clouds, that beautiful event where the clouds are pushed below the mountain peaks, and you look out from the sunshine. The light was perfect, beyond perfect, which is impossible, but it was.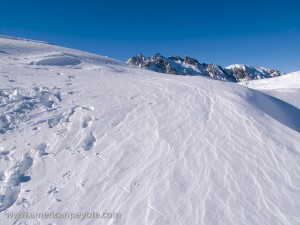 Ski touring looks fly, but it's surprising exhausting. I was vacationing in Detroit for Christmas and my Swiss mountain legs hadn't been exercised in months. So when I skied down the slopes and tried to turn my legs revolted with deep screams of muscle fatigue. I'm a weak, flabby man, a poor example of a mountaineer, but there's always next weekend. I made it back to the gondola without crashing and decided to head back for a relaxing Sunday night in Winterthur. "Why push it?" The best ski season in February and the best touring in March (so I hear) and I just want to be in touring shape for the days to come.? That's the point of Lazy Swiss Sundays, to not kill yourself, but to enjoy life. Their are many firsts in this life. Many things to be remembered, and many things to look forward to. A lazy tour in a resort area doesn't sound exciting when written down, but it was a start, a flickr of adventure for the soul. It was the start of the beginning.