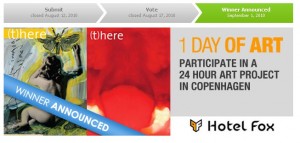 Strange and interesting opportunities come to those that seek them out. That's the a sequence of words which come into mine when I pondered the email I had received from Talenthouse, stating in clear and unclutterd language that my Lazy Art submission had won me a trip to Copenhagen to participate in the 1 Day of Art event from (t)here Magazine.
Talenthouse is a social-networking website for creatives. I joined it a year or so ago, and eventually started adding to my online portfolio. It has a slick interface and is designed to be a very socially-oriented website. It's like Flickr with the visual feeling of DeviantArt and something that no other website I know of offers, the opportunity to submit work to Creative Invites. It's like this, a company organizes an invite, users submit their work, the sponsor picks the winners, and in my case, it means a flight to Copenhagen and a free license to go crazy creating art for an issue of (t)here magazine.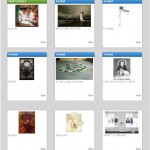 I submitted three pieces from my Lazy Art collection of 1mx1m paintings. These are graffiti inspired splatter feats of madness I do in my apartment from time to time. I started painting because it's more fun than playing on Photoshop, and a billion times more interesting than screwing around on Facebook or watching MTV. Getting to do this in Copenhagen is sort of like a weird dream sequence. I don't know what will happen there, but I'm heading into the future with an open mind and soul filled with desire to experience the unknown.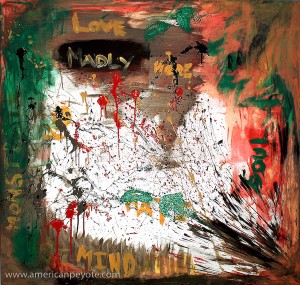 The premise of 1 Day of Art Copenhagen is straight forward. I fly to Copenhagen, there's a bunch of other artists, photographers, etc. who will be there as well. We blindly pick an editorial assignment, and then have 24 hours to create a body of work on that mysterious subject. Here's the official out line of events from (t)here magazine:
On October 1, 2010, artists of all disciplines will gather in COPENHAGEN for a one day creative event – 1 DAY OF ART. In this premier (t)here magazine concept – photographers, writers, visual artists, designers, and musicians will participate in an undisclosed editorial assignment. Our participants will gather in one location where they will randomly draw their assigned subject. Their subsequent content must be executed in one day, and executed within the city limits of Copenhagen. All files and relevant materials are due 24 hours later
The results will be published in (t)here Volume 13, due for release in SPRING 2011.
To be honest, this is balls to the wall scary for me because I don't have any clue what's coming, and I run the risk of making a fool of myself on the world stage. It's also barrel-of-monkies fun, the type of trip I was born to go on. When fear and the thought of falling on my face creep up my spine, I look inward to setting my mind. I look at it like mountaineering. No sane person can head into the mountains without thinking they could die. Or, I think that's the only responsible way to mountaineer. This sort of mindset keeps your senses alert and sharp, even when you've been out for 10 hours and your legs are shaking on the rock edge of a long ridge. You keep going because there's no other option, and that's my mindset for Copenhagen, head into the adventure without much of a plan, but all the disrespect for failure my sarcastic personality can muster.
There are a few things – philosophies if you will, that work for me in life. It starts with accepting that I may die on each mountaineering trip, welcoming that I'll probably fail at whatever I start out doing, and believing that that inevitable failure means absolutely nothing. This method has served me well so far in life. It means I'll try nearly anything, including walking into a cloud of tear gas, just to see what it will feel like (it's like cooking too many onions in a kitchen with the window closed) and even if I do screw up along the way, I'm not blocked from going forward and living an interesting life. I know this comes off as sounding a little arrogant, but I'm a vented Doktor of Science, and assure you that I'm the first to admit when I'm spewing nonsense from my lips.
I would like to officially thank Talenthouse, (t)here Magazine, and Hotel Fox for making this adventure possible. I don't know what will happen next, but my senses are alert, and I'm geared in the head to find out what will materialize from this interesting course of events.