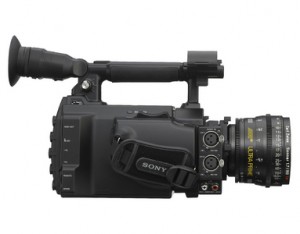 Sony has announced the PMW-F3K and F3L pro level camcorders to the CineAlta line of awesomeness. They feature PL-lens mounts and Super35mm sensor sizes, along with 35 Mbs recording. The camera targets the pro-on-a-budget line of buyers, but is not priced to compete with the Panasonic AF100.  Everyone knew this was coming, as Sony was showing a 35mm full-frame camera at NAB 2010, the only question was when (and for how much).
The F3K offers a nice mix of frame rate features, much like the AF100. It records in 23.98P as a native format, which can be over-cranked to get slow motion effects with fast moving objects. Frame rates are selectable from 1 – 60 fps in 720P and from 1-30 fps in 1080P modes. The wonderful selection of frame rates I wish my VG10 had. Other high points are the recording format, which is in Sony XDCAM, very nice for dropping into a non-linear file editor. There's also the possiblity of , 10bit 4:2:2 HD-SDI output for hybrid recording possibilities, allowing with content to be recorded the internal memory and on an external device (uncompressed form).
A big question now is, where will a pro model of the NEX-VG10 fall? Phillip Bloom reported on his blog, Tentative pricing from Sony Europe is €20,700 (US$28,850) for F3K (with lenses) or €14,500 (US$20,195) for the F3L (without lenses) model – no where near as cheap as the AF100. Estimated shipping date is January 2011. So not cheap am afraid!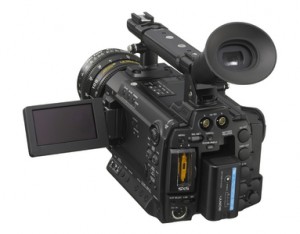 This high price-point places the camera well outside the NEX line. It gives room to offer a NEX Semi-Pro camera at about 3000-6000 USD (which would be in line with the AF100). Of course, the NEX is supposed to be aimed at consumers, not Indy film makers who probably don't care about auto-focus and adapting Sony Alpha lenses to their video camera, hence the PL lens mount. However, everyone who can create a rumor is suggesting a Pro version of the VG10 will come out in 2011.  I think the desire for such a camera exists. The Canon 5D-II DSLR video craze started things, but Sony is the company heading in the right direction with the NEX camcorder concept. It's the most versatile design, allowing use of all camera lenses in the form of a camcorder, which also works well as a stills capture device.