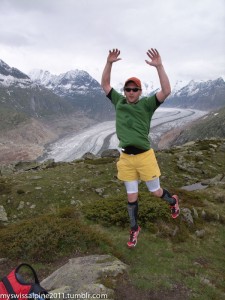 For my first taste of alpine running I headed to Bettmeralp, a little dorf in the Swiss mountains, on the footstep of the Aletsch glacier. Bettmeralp (the better alp) is an ideal running location, the accommodations sit at 2000m, and the ridge above the glacier goes from 2200m up to 2600m by the gondal station near the Bettmerhorn. To mix up the running with mountaineering, you can also go up to the Eggishorn, which sits at a comfortable 2900m. If you're so inclined you can run to the other side of the Aletsch, and go through many meters of up and down to reach the Oberaletsch SAC hut.
The goal of this weekend was to get into a little bit of shape, train my lungs at altitude and see what gear I need for mountain running. I had with me a pair of Salomon Lab running shorts, funky compression style running shorts that compress and stabilize your leg muscles while going up and down and around mountains. The support of the shorts is supposed to protect your legs so they don't fatigue as much, and they also breath extremely well while keeping you warm in the alpine air. There's also a very tight fitting shirt to wear, which helps maintain proper posture while running. I took along some compression ski socks to keep my lower legs warm. On top of that I wore my icebreaker wool shirt, which helped to retain heat in the cool alpine air. When paired with a pair of Pearl Izumi arm warmers, it all makes for a very energy efficient running uniform. It also makes you feel and sort of look like a member of the X-men. My girlfriend said I couldn't run in just the shorts as their almost see-through, so I added a pair of Patagonia swim trunks.
Marathon Training
There are many things I've never done in life, including running a marathon and running at altitude. I normally keep a comfortably quick pace in mountaineering boots. So, for the first two days I spent my time running up from the dorf to the ridge which leads up to the Bettmerhorn.  Once you ascend up the hiking trail it's more or less flat, and you can run between Riederalp and the mountain trail leading up to the Eggishorn. The panorama is beautiful from there, even if clouds come in from the distance and threaten to open up on you, it keeps you moving at least. Each day I had a small pack filled with a 2-liter hydration system, plus cold weather essentials and near useless things like my iPod. This is like 5 or so kilograms I probably don't need to be running with during the SwissAlpine marathon, but I find it essential for training in a place where the weather can turn nasty before you have a change to find cover. I think once I get rid of the extra gear I'll have some confidence that I'll actually be able to finish the K42 race, but I also have 1.5 months to get my body in shape.
Last Ascent
On the final morning I got up early and left the apartment around 5:30am in my mountaineering gear and hiked up to the ridge of the Eggishorn. Running in the hills is fun, but there's nothing like balancing on a real rock ridge with a Swiss panorama all around you. I developed blister almost immediately. The Salomon running shoes are amazing on my heels, but my La Sportiva Trango are brutal. However, the Trangos let me balance on my toes on a thin rock edge, and the Salomon shoes just aren't designed for an alpine ascent. I got up to the ridge around 7:40am, which means I maintained a pace of like 500m/hr ascending. I wanted to traverse the ridge to the Eggishorn but some dark clouds were moving in and it was pretty obvious I would be hit with some serious rain if I stayed up there too long. This is fine if you're just running in the woods, but on a Swiss mountain ridge it's just a stupid risk, plus I wanted to get down for breakfast.