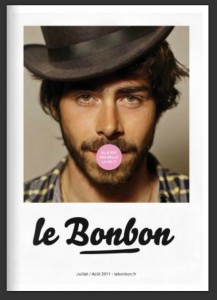 Paris is one of the those iconic places that you don't want to get sucked into because it's so well known (like Las Vegas), but there's a reason that it's so popular. No matter how much you may think it's a cliche to stroll down the Champs-Élysées, it's still a unique experience. The Effel Tower simply does not get boring, and I'll never pass up a trip to this wonderful heart of Europe. The last time I was back there I met up with Emilie Brion, we know each other from an eternity ago in Michigan and I promised to look her up next time I was Incognito in Versailles. We killed a few hours at a cute cafe near the Opera and we got into some heavy conversations about photography, portraits, and the Decisive Moment. She appreciates the capture of a singular moment in time, which can never be relived or improved upon, I say that I produce decisive moments in the studio when I decide to. In truth there's a never a way to relive a photograph, either from a darkroom or from the computer, and it was excellent when I regained this sense of fleeting time captured in a camera after our conversation. Since that time Emilie has started shooting a portrait project with Le Bonbon magazine, which features portraits of people from the different districts of Paris. I wanted to write about her project, my mind freshly finely tuned for some prose after watching the trailer for the Rum Diary (the novel by the late Hunter S. Thompson) with Johnny Depp playing Paul Kemp. But to be honest, some things are best left in their perfect natural state – and no post processing or editorial drama is necessary. So I present here, in Emilie's own words – her portrait project of the 6th and 7th districts of Paris for Le Bonbon.
The online version of her portraits can be found here pages 48-49:
Le Bonbon Juillet 2011 Rive Gauche
In Emilie's words…
Le Bonbon, 'the candy" in French, is a local free Parisian magazine by arrondissements (for each districts of Paris) made for and close to the locals. It includes information on what's happening in each district and promotes local restaurants, stores and events. Each magazine includes two pages dedicated to 32 snapshots of people from that district. Since I love to take pictures, I was asked if I wanted to take the pictures for the magazine for the 6th and 7th district of Paris. I thought it would be a new challenge and interesting project.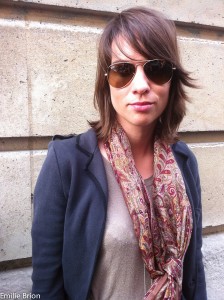 Since the pictures are snapshots, I did not want to use a digital camera but simply use my iPhone 4 so that when I would approach people to ask for their permission to take pictures, I wouldn't be a photographer – but like them, a pedestrian walking on the street with an iPhone in her hand…. Less intruding I find…
Shooting street portraits of strangers is challenging. Often when you see a stranger you want to photograph, you can't seem to ask them for their photo. For my part, I don't want to intrude and I have the fear of the rejection. The struggle to shoot through the fear is worth it as when you get a spontaneous approval then you get excited and want to shoot more.
The reaction varies, either you get a firm "no", or a spontaneous "oh, ok" or some people ask you numerous questions s as they are intrigued by the reason they were chosen and what the purpose is. Approaching people on the street is quite a sociological and psychological experience in itself…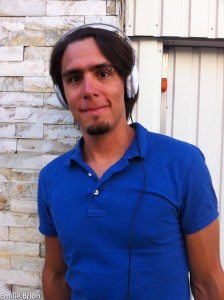 The light is my biggest challenge… I walk around and find someone that I feel represents the districts or I am just struck by their face but I don't want them to pose and position them to get the best light. I prefer the "instant" moment as these are not professional photos but snapshots so I often disregard the light and the one thing I want to capture with every portrait was that 'unguarded' natural look… that look that moved me in the first place when I spotted them on the street… I want to avoid that usual snapshot smile… you know, that smile that you've smiled a thousand times whenever you're in front of a camera that "forced and fake smile and posture". I want it to be REAL and spontaneous.
This project was a challenging and rewarding experience for me. I remember each and every encounter I've had with all these strangers: how I spotted them, how nervous i felt, how they reacted to me, and the rewarding feeling afterwards knowing that I just got one more keeper in a set of a hundred keepers I was aiming to get. Now I feel so lucky having been able to connect with these people even for just a few seconds. Different faces… all of them beautiful in very different ways with whom I have had a brief encounter that I tried to capture to its best in its instant.
As Marcel Proust said: "The only real voyage of discovery consists not in seeking new landscapes but in having new eyes."