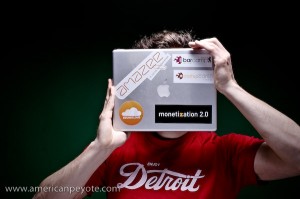 Organized on Amazee, the Swiss StartUp Camp 2009 in Basel was an awesome experience to be a part of. I arrived early on time the morning of January 31st in Basel, and as I walked into the Fachhochschule Nordwestschweiz, I knew that I was out of my element, of this much I was sure. What was a photography-focused blogger doing at a camp for StartUps? More to the point, why did I give a presentation at a venue where the focus is totally out of my experience level? Because putting two opposite things together sometimes leads to unique solutions. There were people walking around who have startups, who finance companies with 10X more money that I make in a year. There were individuals, those who have concrete ideas and were looking for financing and maybe changing the world. I'm a mechanical engineer who publishes a blog about photography. So when those of us with things to say stood up and offered the titles of our talks, I was surrounded by people listing talks about getting funding, working with venture capitalists, protecting intellectual property and managing startups, I felt a shudder of fear and apprehension shutter through my spine. But I'd agreed to take the ride, and offered up a talk about creating new ideas and managing them.
The term StartUp is a dangerous thing to throw around in Switzerland or Silicon Valley (I would imagine). It's like living in L.A. and saying you're writing a script. Sure it sounds cool and will make people listen, but everybody in L.A. is writing a script, wants to be a director, has a stand-up gig on the side and is dreaming of bigger things than working at StarBucks. Trying to be something you're not doesn't work in life for more than 10 minutes. I have no StartUp, but you never know about the future, and in the present tense, I do know how to create and organize ideas, so that's what I talked about.
The StartUp Camp was organized as a barcamp, which in theory means that everything is done on the fly. But the cool thing about the StartUp camp is that each time slot had one or two prepared talks. It was actually the perfect mix forethought and inspiration, offering room for the unknown and at the same time you knew there would be some good talks no matter who showed up.
The keynote speaker was Suhas Gopinath, at one time the 14 year old CEO from India. He had a cool story about pretending to be a prospective customer to various companies, and then refusing to do business with them because they didn't have a website. Then he emails again and asks if they need help building a website. Deceptive, but apparently effective. The rest of the continuing story is internet company startup successful history in the present tense. We like to hold up young and successful people, no matter if they're 14 year old CEO's or 15 year old pro photographers like Joey Lawrence. Truth is, doesn't matter how old you are, it matters what you do with the time you have. ?Howard Hughes is still my entrepreneurial hero.
The great value in un-conferences (BarCamps) is that you interact with people from a very broad spectrum of society. In research conferences, you interact with people from a very narrow spectrum of society, and this is one reason why I love attending BarCamp conferences instead of technical ones, I get exposed to new ideas, totally outside my area of understanding. I started the day with no idea what VC means, but by the afternoon I was well-versed in the difference between Venture Capitlists and Angles, what is expected from an investor standpoint, and how to get a business moving from concept to incorporation stage.
Fully reporting on everything I learned at the Swiss StartUp Camp would impossible, as I'm still processing it all and decided long ago not to be a journalist. A few of the most memorable things that will stick in my head for years to come came from a talk given by Stephan Bisse. I've no doubt missed a few words, but here are some of the core concepts,
"Contrary to popular belief, successful companies start off struggling."
"Nothing is as powerful as an idea who's time has come."
"Be able to explain your concept in 2-3 sentences."
Both Stephan and Fredi Schmidli shared experiences about their early startups not working because they tried to enter industries controlled by cartels. And of course, the personal skills are far more important than the technical ones, this tone reverberated around each talk I went to. At some point I remembered reading a recounting by Noah Dietrich from the biography of Howard Hughes ("Howard Hughes The Untold Story", by Peter Harry Brown and Pat H. Broeske),
He made them think they were the most important scientists in the world working on the most important scientific projects in the world.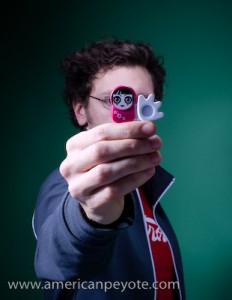 One of the many cool sponsors of the camp was Poken, a cool little device thats helps to aggregate all your social networks into one place. At first glance it reminded me of a Tamaguchi and the phrase "impending lawsuit by the makers of Pokemon?" was the first thing that popped into my mind when I saw the little device. Basically the Poken is used to exchange "Pokes" with people in real life, then you plug the device into a USB slot and head to the website, all the social network stuff is then right there for everyone you exchanges Pokes with. Pretty cool, fairly neat.
And what comes next? Only the future knows. I'm planning on recording audio to go with my talk on Idea Generation, for now we have the slides. ?In mean time I recommend reading Sparks of Genius by Robert and Michele Root-Berstein. And then? Well, the other option is bouncing a few tissue engineering ideas around my brain and see what results.
Since I was too nervous and freaked out before my presentation, I neglected to record it on my Zoom H4. However, I did take the time to record a version of it using Keynote and after exporting, posted it as a video to Vimeo. I work best with a crowd in front of me, gets the fear creeping up my spine, which doesn't happen in my apartment. Still, the main points are all there. Enjoy.