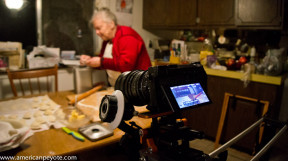 It's always interesting to spend Christmas in Michigan. Generally I take on some sort of self-archeology project, like digging through my old toys and building up the Toy Warz photo series, but this year I'm revisiting the Pierogi Project, a documentation of how my mom makes Pierogi. Pierogi are these fantastic potato based dumplings, with origins in Easter Europe (so far as this project is currently concerned). As food is a way to document and preserve culture, in my older years I find it more and more interesting to bring this heritage into the digital conservatory realm.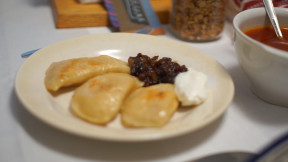 Pierogi are my near-favorite food from my family, more or less tied with platzki as the tastiest food from my childhood. Now, there's no fixed recipe for pierogi, I had asked my mom, but she learned the recipe from her Ukrainian mother-in-law. I learned how to make platzki from my Polish grandmother, but to expand the joy of this simple food, I decided to start a project to document how to make them, both for myself, and to share our cultural heritage with anyone else who is interested.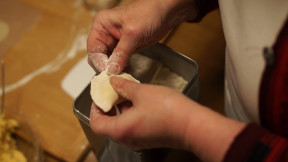 Back in 2010 or so, I shot still images of my mom preparing pierogi and recorded audio of her describing the process. Since I'm now working on cooking videos with the Laughing Lemon in Switzerland, it seemed natural to shoot a little documentary of my mom preparing the pierogi, which is the critical part of the recipe. Here is the test so far.
For filming I used my Sony NEX6 with Rokinon cine lenses, shooting in the natural lighting of the kitchen. For audio I had a Sennheiser MKE 600 shotgun mic with a Zoom H4n for recording. The Manfrotto fluid base monopod was great for shooting from up high and the Rhino gear 4 foot slider was great for getting linear tracking shots in the kitchen and dinning rooms.