So, the World Cup seems like a big deal over here in Europe. Especially so if you're a Swiss soccer (excuse me, football) fan and you were in Zurich last Friday watching the Swiss team beat South Korea. I watched the game on an open air screen just off the Limmat river, the same one that flows through Zurich. In the summer it's fun to take your clothes off and go swimming there at 2am after the bars get boring. After the game I felt tired, but also felt like checking out the city so I took my bike down to Bellevue, a popular location where a small soccer stadium was set up for devoted fans to watch the game in. For some reason it made me think of my college days at Michigan State University. In particular, the 1999 Final Four when folks took to the streets and started fires on Grand River, Bogue street, and various locales in East Lansing.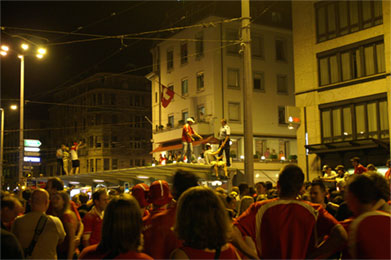 The crowd seemed happy enough. I was running around with a $1000 camera in my right hand and snapped off some shots of the crowd. Things seemed to be taking a turn for the more interesting when the crowd surged towards me and I could catch hints of fumes in the air. The police were gassing the crowd near the bridge and there seemed to be an exodus in the works. I started running as well, but got distracted by the guy in a cow suit.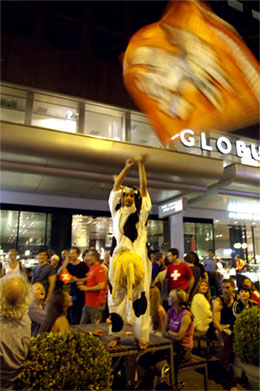 The police must have left because I couldn't see any shooting tear gas stars floating through the night sky. But there were fools who were crazy enough to try and drive through the city. I was a bit worried when some spirited youths began rocking a van back and forth. I thought about getting in close for some photos, but I didn't want the thing to tip over on me.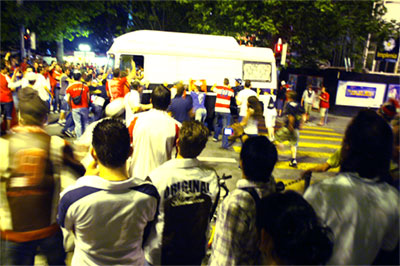 For some reason though, I just couldn't get into it. Maybe it was because the game didn't mean anything to me. Or maybe I was just tired inside. Ah, so this is what getting old feels like. They call that maturity some would say. I just had no desire to view the riot and instead took the long refreshing bike ride home.
Zurich Soccer World Cup