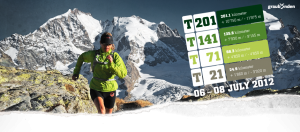 It pays to keep tabs on social media streams and to apply to things you find on the internet. I saw a posting from Mammut about a race called the Swiss Irontrail, the longest single stage foot race through the Alps, and via that I learned about the Mammut test event. The race comes in four flavors, T201, T141, T71, and T21. This being my first ultra, I decided to sign up to run the shorter of the ultra races, the T71. It's about 68km long with about 4300m elevation gain (and then subsequent descent). Along with sponsoring the race, Mammut has also organized a test week with some pre-selected runners before, and after applying I was one of those lucky few invited down to Pontresina for their pre-Irontrail running event next week. This should a fabulous time running in the Alps, getting my lungs ready for the T71 and testing out the latest trail running gear from Mammut.
The Mammut test event in is Pontresina, and word on the street is that there will be a photo shoot on a glacier followed by a week of running and testing Mammut running gear. Well, it's more than a rumor, that's why we're going down there, and I'm counting down the days. As I've been writing a lot about trail running gear the past few months, I'm super excited about participating and letting them know what I like and need in trail gear. Functional, low weight, streamlined design sense, that's what I want in my trail running gear. I've always respected Mammut as one of the leading mountaineering equipment and clothing makers in the world. After they got into shoes and boots a few years ago, I was impressed with the mountaineering boot designs they've been releasing, and I'm looking forward to seeing that design sense exercised in their trail running gear.
I'll have my GoPro with me and an extended battery so I hope to bring back many pics from the test week and from the T71 race. Conventional advice is to not run a mountain race like this for your first ultra, but like Silly Girl Running I did the SwissAlpine K42 for my first marathon and that worked out great.