I had a will to be weird on one Friday night, which for me entails not wearing sandals and trading in the climbing jacket for a blazer. The decision process took about a half hour. First, I was thinking of the black DKNY jacket, but it didn't go with the dark blue (2% Kevlar Polo Sport) jeans that I wanted to wear (plus it felt a bit too stiff and dressy). The green corduroy Levi safari jacket was promising, but I wanted something lighter, and although I kinda liked looking like a Beetle wanabe-reject, it was too dark to wear the sunglasses which would have been necessary to complete the ensemble. I finally settled on the Alagash olive green travel jacket with leather elbows and no shoulder inserts. At this point my sister is probably asking the same question she asked me when I was showing her my Purple Doc Marten combat boots, "are you sure you're not gay?" Underneath I wore a dark-stripped white H&M button-down shirt. There was gel in my hair and high-gloss Dr. Martins on the feet. Around my neck I wrapped a Sakes 5th Ave. scarf my mom probably paid less than 1$ for 10 years ago at some second hand store in Michigan – but something was missing.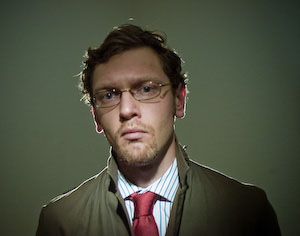 To complete the look I tied on a bright red tie (also H&M). The scarf covered up the top of the tie so as not too look to pretentious (who wears a tie outside of work?), and the bright redness of it peaked out nicely over the top of my stomach when I pulled the jacket back and put my hands in the jeans pockets. After all, how else is one supposed to casually walk through Zurich on a fine fall evening? I call this my laid-back but dressed up. Cutting but comfortable. After all, clothes are unnatural if you're not comfortable in them – costumes are only for Mardis Gras and Halloween. Otherwise you just seem like a trend-jailed fool trying to look cool but all the while projecting a feeling of uneasy make-believe. Ineffective and sad to look at.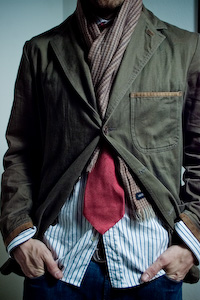 I'm sometimes shy and it takes some motivation for me to get up the courage to be comfortable and wear a blazer-type jacket in public – but I also sleep on glaciers, and I had a Will to be Weird. Sometimes you have to face the fear of looking foolish when going out in a fashion nebulus of the world (like Zurich). But really, if you do it with fearless confidence it doesn't matter what you're wearing. Besides, life gets boring if you don't take a few reasonable risks here and there every once in a while, and since I had no plans to galavant across mountain ridges this past weekend, the fashion risk would have to suffice to keep my senses peaked and primed to effectively handle whatever life would reveal.