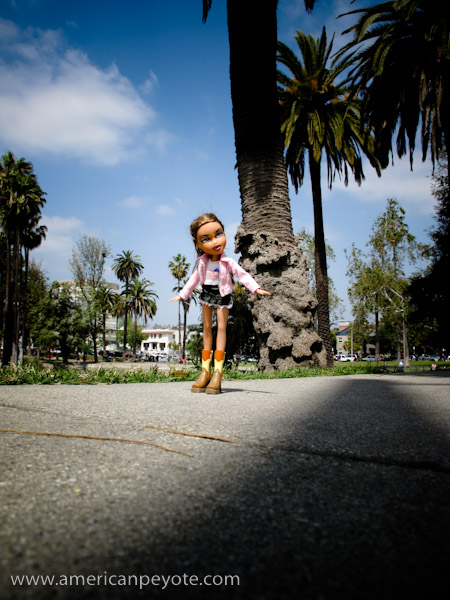 After hiking out of the San Jacinto wilderness in California I slept on a couch in an apartment in the Silverlake area of Los Angeles. On Sunday I took a walk in LA with Eric Wech, the famous comedian. It wasn't a full day of walking, we had to drive of course. It's impossible to walk in LA. Das Ziel of our hunt was graffiti. I wanted to shoot some with my new Canon G10 to continue my project of capturing graffiti images of all the cities I visit like Zurich. We stopped somewhere on Sunset Blvd. and started walking around. We found our way to Echo park, an oasis in the LA jungle with a lake with paddle boats. The local community was out enjoying the beautiful Sunday and a sidewalk sale from the locals started up. I was in a curious mood and we checked out the offerings. Most of it was pointless stuff I could never use, as I was set to fly back to Switzerland in a week. Nothing that is, till I met a nice Latino mother with a box full of Bratz dolls. $3 a piece she said, "Hells yes I says in my heads." I picked up two Bratz, one with Go-Go boots, one with respectably unrealistic high-heels. I didn't want to be too weird, so I just bought the two. The concept was easy, take the Bratz dolls around the LA streets and record the excursion with my Canon G10.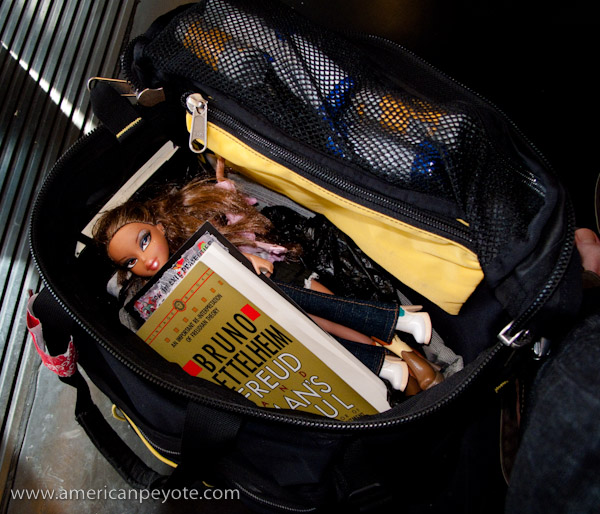 While the Bratz dolls provided tons of cheap fun on the streets of LA and San Diego it was obvious to me that more characters would need to be added. The key was contrast, as with camera lighting, contrast is needed in the subject matter. For some reason, I felt that nothing short of a vintage Godzilla would contrast correctly with the Bratz. This proved difficult to find, and I stepped into a toy store in Horton plaza in downtown San Diego. The store clerk asked if he could help me find something, and I promptly said I needed a Godzilla or giant lizard to go with my pair of Bratz. He laughed joyfully into the air and I could tell that he was down with the adventure. There were no Godzillas in the store, so he recommended a T-rex at first, but then brought up the idea of a large alligator. See, the alligator has proportions close to that to that of the Bratz, and I agreed. My credit card came out and the alligator joined the Bratz street shoot.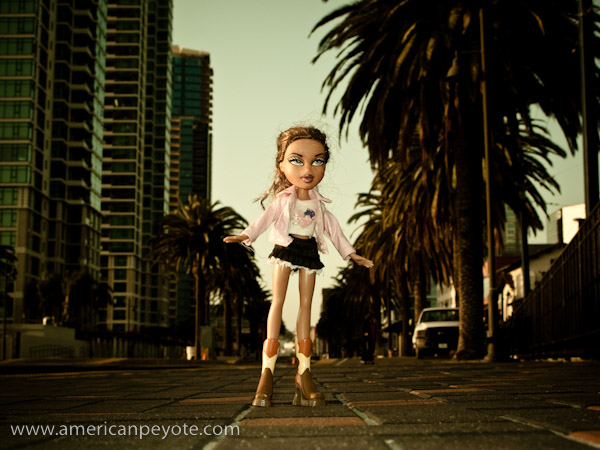 Shooting on the street is a pretty cool photo project when visiting a city. You find a cool spot, unload a Bratz from your bag and set her plastic heels on the pavement. With the Canon G10 I underexposed the background and then added a reduced flash to the exposure. This allowed me to balance the power of the sun and fill in shadows around the Bratz. The challenge is to keep things fresh, so it drives you to keep moving, thinking up places and backgrounds. The fact that you're shooting from street level means you're challenging your photo eye in new ways and forcing a new perspective on to your visualization capabilities. A day later I was tooling around downtown San Diego, and happened to step into Sam Goody, on the hunt for a copy of the High Fidelity soundtrack. I found a used copy at a sweet price and realized that Sam Goody also sells various assortments of tripped-out toys and action figures. It was a hard decision: should I go with the Hellboy, Nite Owl from Watchmen, no…a bobble head Joker, and two freaky creatures. The Joker was only $10 on sale, I couldn't resist. Now I had an entourage of Bratz, an alligator, two Freaky Creatures, and a bobble head Joker.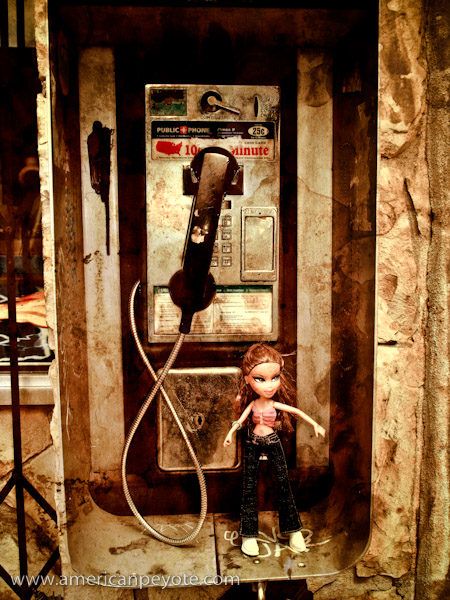 I shot the Bratz with my Canon G10, generally using the on-camera flash to fill-in shadows and balance the sun exposure. Generally I would want to shoot with an off-camera strobe, but I decided to go light on this trip and leave the lights at home. The relative size of the Bratz dolls versus the flash is very good, meaning you have nice control over the exposure of the Bratz doll, and can easily over-power the exposure of the sun. Excellent training ground for setting up future shots with "real" models. You would think people might find it weird to see a man walking around LA and San Diego with a Bratz doll and camera, but when you're wearing Levi jeans and a green Berlin sweater, folks only look upon you with interest and merriment. I kept my assortment of toys, Brats, Freaky Creatures, alligator, etc. in my Mountain Smith backcountry briefcase and pulled them out whenever I felt the inspiration. On the San Digo trolley, at the train tracks, on the beach, during breakfast, at the Oceanside Triathelon, whenever I had few minutes to kill and felt bored. That's the point of vacation, doing new things. What comes next? Well, the Bratz are in Switzerland now, and the possibilites are endless.
The full set of so-far processed and edited photos can be found at the Flickr Bratz Set.