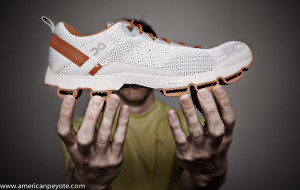 I'm getting ready for ultra mountain marathons like the Swiss Irontrail T71 and need a shoe to help me build up my distance running in the city environment (I hate running on asphalt). I've heard good things about the On CloudTec shoes from by a friend who has been running with On shoes on his marathons and ultras, so I picked up the Cloudsurfer shoe and have been running on it the past few days.
Why CloudTec Rocks
Here's my personal story of why CloudTec rocks. On Friday May 18th I ran 20km from the Limmat up to the Uetliberg and back through Zurich. Most of this was over asphalt, and I was wearing my Salomon Crossmax shoes. After that run my feet hurt horribly and my hamstrings were very tight. I normally don't run on asphalt and I was reminded of the Jungfrau Marathon where I felt destroyed after running on the road so much. Two of my little toes were bruised and I thought I wouldn't run for a week. The very next day I picked up the Cloudsurfers and ran 7 km in the afternoon on pavement and light trails through Winterthur and I felt great. I couldn't believe how effortless it felt running on the CloudSurfers instead of the Crossmax. I like having a mountain shoe which allows for better feel on rocks and technical routes, but it just felt so nice running on the Cloudsurfers. It wasn't a workout, it was like a fun run in the park.
CloudTec Advantage
The unique selling point of On shoes is CloudTec. CloudTec is basically an arrangement of rubber rings on the bottom of the shoe that absorb shock as your foot impacts with the ground. The rings are made of rubber, and absorb energy via large deformation of the ring structure. Essentially you have compliant mechanical springs that deform vertically (along your leg) and along your forward direction of motion (as you're running). This results in two degrees of energy absorption (the 3rd degree, the lateral component would be very small). The rings have little teeth what allow for geometric locking along the forward direction of motion, so that when the rings compress the top and bottom lock together. This reduces the stress concentration point of the rings where they connect to the shoe sole and ensures you don't slide forward too much when the rings collapse. The technology is supposedly patented, but so far I have been unsuccessful in tracking down a copy to see what exactly it is that they claim.
CloudTec is a radical design departure from traditional shoe design (although not the only company doing this), where you basically just have foam and rubber arranged in 2D layers to absorb shock form the act of running on a hard surface. To show that the technology really works, a study was done at ETH Zurich, and showed that there is a measurable benefit to using the CloudTec shoes versus a normal shoe. You don't have to be a scientist to realize this (although I am) you just need to run on them once. After the first step you'll feel a difference, and after the first run you'll have no choice but to be convinced. However, a good idea is just that unless executed well in a product.
Design Thoughts
First, let me go over the bad news (my negative impressions) first. My overall impression is that the shoe is insanely overpriced for the materials used in construction. A pair of CloudSurfers cost the equivalent of 266 USD when purchased in Switzerland (250 CHF). By comparison they only charge $129 when bought in the States. Yes, that is a 100% markup. Why does On (a Swiss company) price gouge the Swiss consumer so much? I don't mind paying a reasonable markup, but this is the most extreme of any product I've seen. I also don't mind paying a premium price for premium materials and manufacturing. However, at this price the shoes cost as much as the Salomon S-Lab Wings XT or FellCross shoes. The difference is that Salomon shoes are beautifully designed, robustly made with all manner of smartly combined materials and high quality rubber on the soles. By comparison, the toe guard and tongue material on the CloudSurfer just feel cheap. The type of material that will rip and tear easily if not treated like lace. But, does any of this really matter?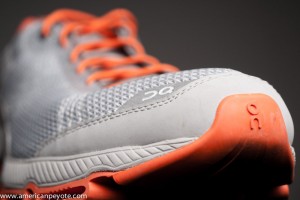 The lower construction of the Cloudsurfer is a combination of the CloudTec rings and foam. The rings are made of a basic rubber, and feel like the same type you would find on a pair of Onitsuka Tigers or an Adidas fashion shoe. I don't mind this on my Tigers because I don't run in them. For a premium priced pair of running shoes this is a let down. I'm a little worried about the long-term durability of the shoes on pavement and asphalt (let alone trails). Running in the winter will probably be out of the question, as the temperature drops the CloudTec rings will likely stiffen (the rubber would become less elastic in the cold) and increase the possibility of failure when the rings are compressed. And once or two of the rings are broken, then what? Throw them away and buy a new pair? Try to repair them with a hot glue gun? It would have been nicer to see a higher quality rubber with a more durable surface for such an expensive shoe. However in the end the question is: are they really less durable than my Salomons from a seasonal perspective? For example, in 2011 I abused a pair of Crossmax XR Neutral shoes without too much trouble running up and down the Alps and the front material near the toe guard has torn a bit. To be fair, the Crossmax probably weren't built for the runs I did with them and the material began to tear near the toes likely due to my lust for rock hoping down mountain trails. I now use my old pair for walking around and have a new pair for 2012 trail runs and training. If I use the Cloud Surfers just for training during the summer on mild trails and in the city, I'm more or less confident they'll survive.
The choice of materials are no doubt a function of manufacturing scale and an attempt to keep the price down (outside of Switzerland). The manufacturing of the CloudTec rings (a 3D structure) is of course more complex than traditional shoe shoes where the sole material can be pressed or injection molded easily. Overall the style of the shoe is nice and I like the primary mesh material of the shoe. It's basically a small 3D hexagonal weave, similar to the construction of the Salomon Advanced Skin S-Lab 5 pack and is also used in some of the new Inov8 trail running shoes. This material has wonderful structural properties and also breathes extremely well, perfect for long summer runs.
CloudTec Is Awesome
So, now that I've give my straight up negative opinion of the materials and basic design of the Cloudsurfers, I would like to point out that they are the most comfortable shoes I've ever run on. If I sound overly negative in my initial thoughts on the Cloudsurfers, it's simply because I like to break down a product design and explain what doesn't work or look good from my perspective. If the shoes didn't cost so much I wouldn't be so critical, but I expect to get what I pay for. This is how product designs evolve. If people only say what is good and don't point out negative attributes nothing will change. Then the company doesn't realize they need to evolve their design to fulfill the desires of customers and then it's all downhill. I would love to see On fully succeed as a company and bring CloudTec to a robust shoe that I would take on ultra mountain runs like the Irontrail T71, SwissAlpine K78 and MountainMan races. I want this so much that over a coffee at Alltag in Winterthur I started sketching out a mountain shoe design inspired by CloudTec that would fulfill my needs as a mountain runner.
I want this because I love the feeling of running with the CloudSurfer. The CloudTec technology works, and works very, very well. Impact from road and trail running is vastly reduced as compared with running on traditional shoes. I feel like I run with a flow that I have never experienced before. The shoe reduces muscle fatigue and allows me to run longer. You can develop a natural stride with CloudTec as the rings conform to the road surface as your feet connect with it. It reminds me of compliant smart structures and adaptive mechanical design trends in engineering research.
Yes, I Love Them
So, do I love the CloudTec CloudSurfer shoes from On? Yes, they are wonderful to run with. Do I have reservations about the overall build quality, long term durability and design of the shoe? Yes, I do, but if implemented correctly On could create an amazing shoe for long distance trail running. I have some ideas for creating a mountain specific shoe inspired by CloudTec and a metamaterial design path (think auxetic structures) but I'm still developing it in my head – not yet fit for publication. Is CloudTec for you? Try a pair and find out for yourself.