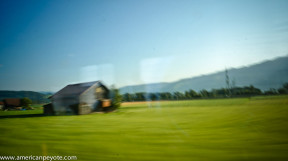 If you live in Switzerland and have no car you ride the trains a lot. It's one reason why I like living here, because the time in-transit can be used for something. When you're driving here or there or biking, you have limited attention and ability to do anything beyond watching the road. I stated doing train passenger landscapes on the train last winter. I wanted to create some slightly blurred landscape images to layer into the Toy Warz storyline I've been developing with Bratz and Monster High dolls.
Toy Warz
Here for example, you can see how the blurred background trees give just a little landscape texture to the background, mixing in will with the foreground but giving some sense of depth and context to the central image. I wanted to give a bit the post-apocalypse feeling and the texture layer of clouds could be blended into the narrative of the image. Expanding beyond that, I was also looking for image to give more texture or shadows in waves, to mix on either side of portraits or or to direct the eye of the viewer from top to bottom.
Relative Motion
These image have been taking mainly from the route from Zurich to Winterthur and from Zurich towards Chur. I started expanding on this theme and realized I just like the landscape images, in particular when I pan while shooting. The effect is that the background landscape is sharp while the foreground elements like trees and houses are blurred. It's an experiment of image capture and relative motion of the train to the landscape, mixed in with a long shutter speed, it gives a nice surreal feeling to the shots. If you shoot while the train is curving away from the foreground, you get an added wave texture to the image. Some of these I'll use for the Toy Warz backgrounds, but I also love them as a series on their own.