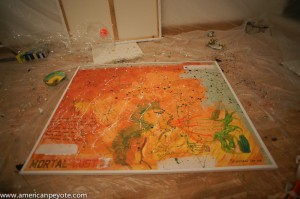 On Monday evening I had lighting strike of inspiration hit my head. First, I turned off 300 on my computer, then I finished reviewing changes to a research paper, and then I decided to Tweet the creation process of a painting. The idea was, I'd take pictures at different intervals and then post them to my social networks including Tumblr, Twitter, and Facebook. Since they're all tied together, I just send it all to Tumblr and the updates were forwarded to the other accounts. I don't know if this was a good idea, or if it just seemed like it should have been a good idea at the time, but it seemed like an idea, and so I followed through with the plan. I like Facebook for networking and Twitter is cool to get an overview on trends, but I'd never attempted to harness these things to broadcast a message of creation. However, after downing a red bull, everything seemed possible, so I pulled out a canvas and manga markers and started writing some things and sketching out a large head.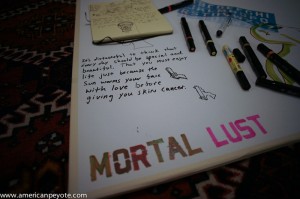 Mortal Lust
I can't say for sure what was going through my head, but I wanted to start small, and wrote, "all the things you long to forget" on one side of the canvas. After some fun with the manga markers and using a stencil to write out MORTAL LUST – or was it before? Well, at some point early in the process I added the line, "It's distasteful to think that every day should be special and beautiful. That you must enjoy life just because the sun warms your face with love before giving you skin cancer." I don't know where this line came from, possibly from a journal entry or maybe it was the red bull twisting my mind. In any event, I decided that the large head needed some fire coming out of the mouth and that it would also need to be green at some point.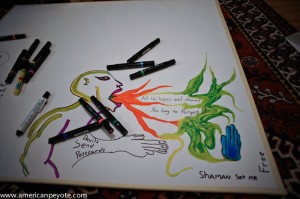 I like using manga markers on canvas. It's something about the way that the fabric soaks up the ink. With these markers you can go back and blend two colors together, so I'll start with a base color for the edge of the flame, and then fill and blend it with a lighter color on the interior. It's like taking all the fun of Photoshop and transplanting the experience to 3D reality. This also gives off a lot of vapor, and possibly this inspired me to write, "Shaman set me free" in the corner of the canvas. This all formed the basis for the painting, and I decided that it was now time to retire to the paint-throwing wing of my apartment, and get to work blending colors together. So I tapped up the plastic that had fallen down in my painting room and setup the canvas on the floor. I was barefoot of course, because that's the best way to paint.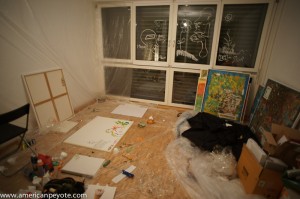 I made it point, when I moved into my place, to not buy any furniture. People move into places and buy stuff and then the whole space is filled up with useless places to sit and relax. Fuck that I thought, I want a laboratory to create in. So I left a room connecting to the photo studio mainly empty, and eventually covered the floor and walls with plastic to throw paint around in. Now that I've ben in to painting for a year or so I'm getting a collection of works. I'll either need to hang them all up, or sell them, or just destroy the basterds with a chainsaw at some point. But, until that time I'll stick with creating paintings. I'll call this piece Gonzo Art II, or maybe Mortal Art, or whatever. Names can be so meaningless without a proper context. As I said, I had the bright idea to tweet the creation process and uploaded the images to my Tumblr account, which then filtered to Facebook and Twitter. I don't know if this had a positive impact on the world, but it was a fun experiment, and all the images can be enjoyed here below.