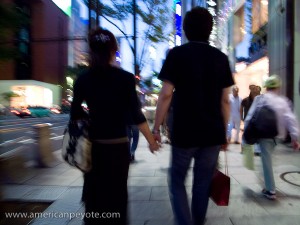 Ginza is the Tokyo shopping district which makes Bahnhofstrasse in Zurich look like an outlet mall just off Route 66 in Arizona. Every major clothing marketer is there including the likes of Prada, Eddy Bauer, Levis and Apple. In addition, a number of camera manufacturers including Nikon, Canon and Sony have showrooms here, as well as sword shop selling hand-made Katanas. If you're in Tokyo, Ginza is a cool place to walk around and gaze in awe. Gaze around in awe of amazing architecture, fantastically expensive clothing and visit all the camera show rooms you could imagine. You can buy any luxury good, and probably find a vodka mixed with glacier water imported from Antarctica if you look hard enough. But the looks are for free and digital pictures cost nothing to take.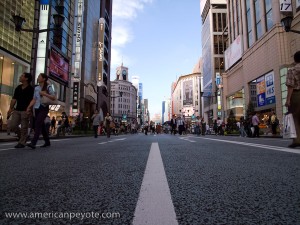 Despite the concentration of camera shops, Ginza is one of the worst places in Tokyo to buy cameras and photo equipment, unless you're a collector. The stores there are basically vintage Leica vaults – filled with all manner of limited edition gold plated 35mm Leica paper weights one could want. Rollie twin-reflex cameras and the occasional and Western-rare Fuji 6×8 medium format rangefinder are also floating around, but Ginza is really just focused on filling the needs of Leica and Rollei collectors. For cameras you have to head to Shinjuku (Yodobashi and MapCamera). ?On the weekends the main drag in Ginza closes down to cars and you get to walk wherever you like. This is especially cool when the sun goes down and you can capture excellent views of the buildings from the street vantage point, a location generally difficult to have in any city of the world on any given day.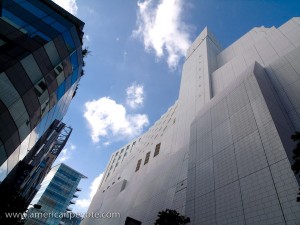 Like many parts of Tokyo, the architecture is new and snazzy and excellent for taking snaps, or even "photographs". The weekends are also a nice time to do street photography, whatever the exact definition, if you enjoy taking photos of people on the street, a day trip to Ginza on the weekend will provide you with countless subjects. The Japanese population is generally well acclimated to having their picture taken, it's a street photographer paradise.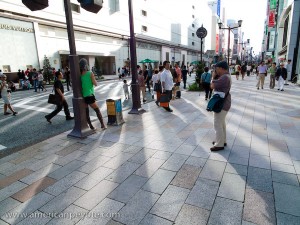 As with many districts of Tokyo, if you're street shooting, you'll have a lot of company. I was walking down the main drag, and a photographer caught my attention. He seemed overly excited, almost like a giddy school boy at a candy convention – and then I saw the object of his obsession. A woman was chilling by the street light and this guy was having the time of his life shooting her, she didn't seem to mind too much – as if she were used to the attention, and just stood their posing and smiling. Even when a second guy showed up and started clicking away she just kept the pose. I took the photojournalist angle and photographed the guy shooting the woman chilling by the street post – being photographed by another guy. Naturally, and in unique Japanese photography fashion, I was sporting a Ricoh GR Digital with the optional 21mm add-on lens. The skies were deep blue and set the stage for fantastic portraits of the city.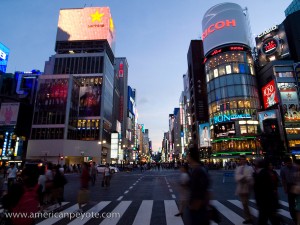 Most parts of Tokyo look awesome at night, but Ginza is special. The main street is extremely wide, and on the weekend when the cars are forbidden to drive there, you have fantastic views of the buildings. Grab a tripod and setup directly on the double yellow lines of the street, turn around in awe of the magical light spectacle around you, the view still haunts me to this day. Whatever you do in Ginza, don't miss this sunset magic hour, the time when the sun is going down – and in that magic 20 minutes when the sky is blue, the city lights are up, and you have time to kill, this is the best time to do cityscapes and capture those sights you can only experience once during the short 24 hours squeezed into a normal day.