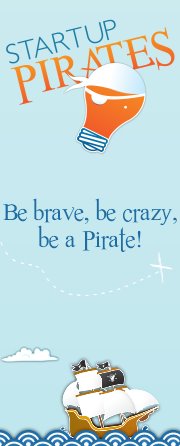 Be brave, be crazy, be a Pirate! How can a person logically say no to that? Startup Pirates is an organization coming out of Portugal, a movement to change the world. I'm easily impressionable and have been looking for a startup event to be a part of, and I met one of the organizers at Ignite Zurich. So, when they advertised the next plundering campaign in Lisbon in February, I figured I would be crazy not to apply to be a part of it. Here's the description for the pirate website, http://www.startuppirates.org/…
More than a company, a project or a non-profit, Startup Pirates is a Movement.
We want to spread an entrepreneurship culture around the world and show that it's possible to build a company right after college or even during a college degree. For us, age, genre, location or professional status aren't obstacles but opportunities to create companies and change the World. There are many ways to change the world and we at Startup Pirates picked entrepreneurship as the way to do it. ?Our goal is to create one-week startup schools around the world. By making the perfect match between the academic world and the entrepreneurship environment, we want to bring together the latest discoveries done in terms of business models, marketing management, Human resources management and the latest achievements in the technological field. We believe this mix is the secret sauce to make startups successful.
So, join us at Startup Pirates, give us feedback, organize your own startup school, with our help or be an attendee at one of the upcoming events. ?
Why Be a Pirate?
Over the last year I've been in a sort of erratic learning and thinking stage. I took a class to understand the professional art world (focused on Zurich), launched a video poetry collaboration with DJCue in Atlanta, and have been doing a lot of background reading/learning on mobile user experience, HTML5, augmented reality, 2D/3D game design, and animation, and some topics in big data. A recent mind vacation in Berlin has brought a lot of things into perspective, and I'm ready from a vision and knowledge standpoint to launch something. What is this thing?
Well, I have a number of ideas on technologies and social topics I would like to translate into a startup. I spend my lunches outlining and diagramming mobile app ideas, everything from an AR graffiti program (Defend Kreuzberg) to app/sensor combinations to aid patient recovery post surgery to helping artists understand the context of their place in the world. I firmly believe that events like Startup Pirates Lisboa are the places to get things off the ground. When I went to 1 Day of Art Copenhagen I little idea of what to expect, but put faith in the future and I ended up creating some cool paintings and realizing my artist identity. Heading to Lisbon for a week to a startup bootcamp and building something with the people I meet there is the way to do things. You go with an open mind, work your ass off, and good things will happen.