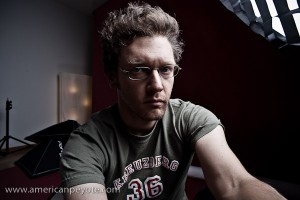 Web Monday Zurich is a meeting setup on Amazee.com to enable interaction between people in the web community around Zurich.  Startups have a chance to present their ideas and get feedback, everyone has a chance to mingle and network, feed your brain and your innovation side in social atmosphere, how can you not go?
I wanted to attend my first Web Monday at the end of August, companies like MAGMAG Magazines were presenting, and being a photographer looking for new ways to present visual content, I was eager to see what was up.  But that Monday I had just flown back from shooting a wedding in Rome, had picked up some sort of sickness, and took down the wrong address.  So I ended up looking for Feldstrasse 113, a fictions address just different enough from Feldstrasse 133 to make me think I was going out of my mind.
Web Monday #10 was held in the Amazee office at the Technopark in Zurich (I was there before for a booster party), and my mind was sharp, so it was problem to find and attend. I could have stayed home and played with my new Octabox, but I was itching to infuse my mind with something new.
Two companies presented, GetYourGuide.com and StreamForge.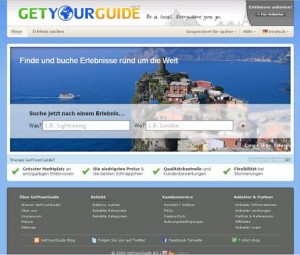 GetYourGuide.com
So, there's like a thousand travel website on the net, you can book a flight, book a hotel, book a car, book a train…but what about booking "an experience?"  GetYourGuide is a newly out of Beta website Startup which seeks to connect trip provides (suppliers) with people looking for travel experiences (customers).  The idea is you head to the website and and quickly search through destinations or activities and quickly find a cool experience, like a city tour, bike tour, etc.  I see a lot of potential for GetYourGuide, because I've been in a position to use it many times.  During the Spring I was in San Diego and L.A. for a few weeks.  In San Diego I was trying to book a kite boarding class, in L.A. I was searching for the best graffiti.  I ended up buying some Bratz dolls and shooting them on the streets of the cities.  So, in the end I didn't learn to kite board, but did have a cool experience.  However, I didn't end up kite boarding because by the time I found a school, I had run out of time and had to fly back to Zurich.  For a travel consumer such as myself, GetYourGuide can offer a lot of value, and I'll use it to find a cool trip in the next city I visit.
For trip suppliers GetYourGuide is attractive, because it connects the local suppliers to the global customer directly.  It includes a very nice back-end with analytics software to help suppliers see how people are visiting their trip listings.  At the moment GetYourGuide is targeting popular destinations, and finding trip suppliers in those main cities.  This is nice strategy, as they can bring in revenue quickly, and then expand to targeting trip suppliers in broader destinations.  This is what interests me the most, because if you're looking for a cattle driving experience in New Mexico and you live in Stuttgart, it's not so easy to do.  I also had problems in the past contacting mountain guides in Bolivia when I flew down there.  I think if GetYourGuide expands into these areas and eventually targets specialty suppliers, they'll set themselves apart from their competitors like Viator.com and have a web company offering a lot of value to their customers and suppliers.  I'm looking forward to a travel experience-enhanced future.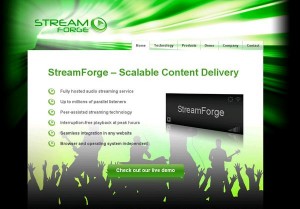 StreamForge
So, when Barack Obama was giving his inauguration speech, so many people tuned in that the video feed was unavailable, the internet was broken – overloaded, users were blocked, their experience ruined.  I didn't watch the speech, but I do recall trying to watch the 2009 Leica webcast during the launch of their new cameras, the S2, X1, and M9.  Their servers were overloaded and I had to read about it on a forum, how disappointed I was.  How can we avoid this in the future?  By using Peer-to-Peer strategies like those employed in LimeWire and previously in Napster (and now many others).
Instead of downloading the video or audio content directly from a website, parts are downloaded from other people who are downloading the same content.  This removes the load from the main server, and enables people to maintain their enjoyment of the internet without overloading the system.  This isn't a new idea (in principle) it was tried (and failed) in the past.  But StreamForge is using technology developed from the latest research at ETH Zurich, and like many technologies, the subsequent try is often far better than the first attempt.
Like (as far as I know) all Peer-to-Peer sharing platforms, StreamForge does require that their software be downloaded and installed by users, otherwise they wouldn't be able to upload data and remove the load on the main server.  But this presents a potential problem, because many consumers are wary of installing random programs which are connected to the internet, even though it may not be any different than using a webpage.  Also, this is a technology which the main server companies need to adopt and trust in.  If these two barriers can be overcome, then StreamForge has a bright future.  There are other examples of companies with similar problems.  Flash was introduced something like many, many years ago, but it's really only in the last few years that it's gained wide acceptance, and nearly every web browser has it installed.
Brass Tacs
Web Monday #10 rocked, I love seeing how different technologies develop and how new companies launch and present themselves. It's very inspiring, and makes you think in new ways (at least, it works for me). I had an excellent time at Web Monday #10, I'm sad I missed #9, and am looking forward to #11, which will include presentations by Prof. Manfred Vogel from FHNW, Joaquin Cuenca Abela from Panoramio and Andreas Hoffmann from UBS (there's a contest in the works).
The next Web Monday is coming up on Nov. 30th, location to be announced.  Check out the Web Monday Zurich magazine on Amazee for further details.  Also, STARTWERK.CH was a German write-up on Web Monday #10.