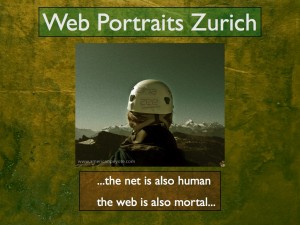 The Web Portraits Zurich project is moving forward. This was a project I started on Amazee to integrate photography with my interest in web technology. The first portrait shoot is with Mathias Möller, who works at Amazee and freelances for laut.de, a German music blog. The Web Portratis Zurich project is as much about exploring creative collaboration tools as it is about creating excellent portraits of people in the Zurich Web/Startup Scene. During the concept/brainstorming stage we've been using Google Wave, but at some point it makes scense to sit down for a face-to-face.
Face-to-Face
So, on a fine Friday night Mathias and I sat down at Cafe Sheres in Zurich discuss and get a concept direction for his portrait. I took along a sketchbook to make a mindmap while we talked. All in all it was an excellent meeting…coffee, free-flow of ideas, the stuff that brainstorming dreams are made of. The goal of our face-to-face was to throw ideas around, see what we like for the main shoot and make sure I don't show up with a suit of Medieval armor when he imagined being photographed like a punk-rocker. A portrait is really a delicate thing, you are not making an image of a person, but rather taking an image of an idea (at least, that's my view on it). The person is the idea, and their physical body a changing representation of only the outer shell. The key is to meld the elements of the person with the shadows of the outer shell. Maybe I think too much, but an image is usually not just a picture, and a portrait is rarely an accurate represenatation of the person in front of the camera.
The Person
During our meeting, I was sort of interviewing Mathias and the other half of the time he was talking out aloud about his ambitions and elements of his personality, which is exactly what should be going on during just such a meeting. What I learned is that Mathias is totally down with doing a cool concept portrait. Just to be safe, we'll do a nice clean one as well (like Jill Greenberg/Platon), because it's possible the concept fails (but it won't). Among the various questions, I asked things like,
What movie do you see yourself in, or identify with?
What type of imagery do you like from music and album covers?
How do you want to see yourself?
These type of questions tell you a lot about a person, and I see it as more or less essential to get this background information, otherwise how will you know what elements fit the personaility of the person. Also, I don't want to put Mathias into a concept he'e not comfortable with. The elements all have to flow together for the image to work. I learned that Mathias identifies with the Punk rock movement, doesn't own a pair of Doc Martens, likes the dark and grungy tones in my photography, is interested in the skinhead culture, counter-culture, often sees things in a political context, likes the imagery of Sonic Youth and Morrisy, is interested in the connection between Pop and Art, wants an image that isn't too sterile, and also not too bright.
Most importantly I found out that Mathias is interested in taking elements from himself (the person) and melding that the concept of the shoot (the idea). This was awesome to hear as it's the way I go about developing portrait shoot concepts.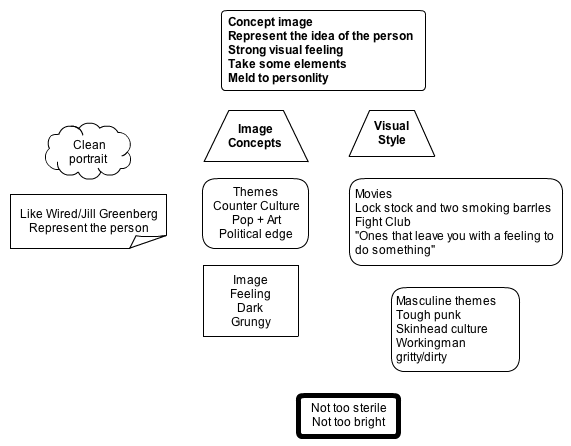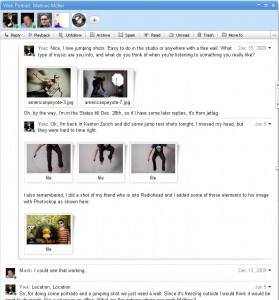 Online Collaboration Tools
One goal of the Web Portraits Zurich project is experimentation with different online tools to help the brainstoriming process and…let's call it: Creativity Management. We started the brainstorming process on Google Wave, which worked ok to throw up some initial ideas and concept images, but it's not about to replace the face-to-face meeting anytime soon. In the future we'll use Wave to throw around some basic ideas, and then meet at a cafe for a sit-down brainstorming session.
For organizing workflow and mindmaps, I've been using MyMind on my G4 Powerbook and Cacoo, an online diagraming tool. First I took the notes from the meeting, wrote them all up in MyMind for visual organization, and then cut and pasted the main ideas to Cacoo. Cacoo works very well for making mindmaps and workflow diagrams. Since it's online I can access my documents from any computer. These can be exported as png images to be embedding in webpages, and the maps can be shared via a url link to the online document, which makes it a very nice online tool. Above is the mind map I made up on Cacoo for Mathias, something I do for every photo shoot now. It's an easy way to view and arrange elements of a portrait shoot, mixing concepts with the shooting requirements.
The Resulting Vision
At the moment I see Mathias standing in front of some old TVs looking a bit like Ian Curtis from Joy Division, the background is gray, layered with a bit of industrial grunge. On the TV's are images of static and protest. He sports an awesome pair of framed glasses (the ones he wears). Part of the visual style will be influenced by Control, the definitive Joy Division flick. The point here will not be to make Mathias into Ian, but to take some visual points from that music style, and layer with Mathias, sort of like adding a grunge layer to a portrait.
The next step is finalizing the concept and doing the shoot.