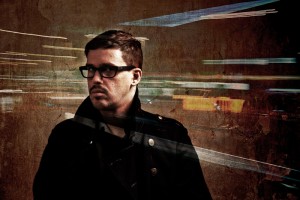 The first willing subject for the Web Portraits Zurich project was Mathias Möller, Editor and Community Manager at Amazee who agreed to have his portrait taken.
The shoot was relaxed, the way a portrait shooting session should be. We had had a concept meeting a few weeks before, and organized some ideas on Google Wave, so there was a clear direction for the shoot. Grungy and not too bright, a little counter culture and gritty. This wasn't a high pressure shoot, Mathias just dropped by the apartment studio and we talked about random stuff like the Spores (a band out of L.A.) and imagery from Joy Division. An observer might call this "connecting with the subject" but I just call it a fun time talking with an interesting person. There were two main looks we went with during the session, Mathias had a vintage Swiss Army jacket and a cool band denim jacket. I was shooting on white seamless with a few lights and reflectors.
Lighting Philosophy
Mathias wanted some darker sort of photos, which is what I've sort of developed a style shooting, so our expectations worked well together. For me this meant creating lighting with shadows and darkness, while allowing the main features of Mathias be revealed. This meant some directional lighting on the face, casting dark shadows across his body, and a grungy post-processing philosophy. I worked primarily with my Elinchrom BxRi 250ws strobes and a Sunpak 383, with Lastolite Trilite reflectors and a large 5-in-1 silver reflector.
For the portrait with a Swiss Army jacket I put a BxRi in an extra small Photoflex octabox, and used this to create a large contrast on his face. A sort of Yin-and-Yang, darkside/lightside sort of lighting. A reflector and Orbis ringflash (with Sunpak 383) were used to maintain lighting detail of his cool vintage jacket. For post-processing I used some industrial grunge, including compositing Mathias into the old abandoned Packard car plant in Detroit, Michigan. Other background images and textures were shot around Zurich and Winterthur in Switzerland.
For a cleaner look, I shot Mathias with a BxRi flash in a large Creative Light softbox (60x90cm) with a grid, and added some fill using the Photoflex extra small octabox. The Creative Light softbox was placed on the side, and gave a lot of bright directional light, which works well for creating defined shadows with smooth but small transitions.
Visual Results
The idea with Mathias was to create images with a certain grungy darkness to them. This was accomplished via lighting and post-processing in Photoshop using layers of concrete and industrial scenes. Overall I think we accomplished the not-to-bright and not-to-sterile look without making Mathias look like a grungy gangster from the Zurich hood.
I'm always looking for new faces to shoot, if you're interested in the idea of documenting the people from the Zurich startup and web scene it's easy to get in contact with me to set up a concept meeting. More about the Web Portraits Zurich project can be found on Amazee.com or the articles here:
Web Portraits Zurich – Amazee Project
Web Portraits Zurich on the blog