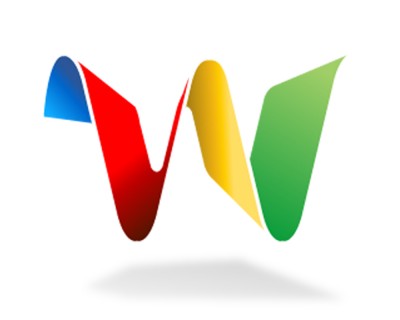 I'm running a project on Amazee called Web Portraits Zurich. Basically it's about creating cool portraits and images of people in the Zurich/Switzerland web and startup community. To try and be a little innovative, I started the project not just as a way to gather a lot of cool subjects to shoot with (like any selfish photographer), but also as an experiment in the online creative process. I usually do a lot of pre-shoot work for any portrait project I engage in, and I was thinking to myself, "what web tools can be used to improve the creative process?" I've written a lot about my Concept to Photo workflow here on the blog, and basically this includes initial brainstorming, shot logistics, and lighting design. What I was wondering was, "how can we do this online, so that multiple people can participate and really make it a community project?"
The biggest problem with brainstorming a photo shoot online is the lack of interactivity on most web platforms. Wether we're talking about Flickr, Talenthouse, Amazee, etc. we're always basically talking about posting messages and responses to a message board. The flow of dialogue is then static, and one has to read through the whole post of messages to figure out what was being said. That's why I was excited to try out Google Wave and use Web Portraits Zurich as a test case for online brainstorming and as a photo shoot organizational tool.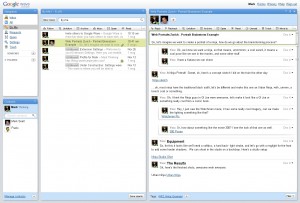 My expectations are that we post a new Wave for each new portrait project, then people start brainstorming how to do it. Do we shoot in my studio, on location, how will the startup company play into the portrait? Do we want dramatic lighting, soft, are there example images we can use to illustrate our ideas? Can we keep the dialogue going, with people commenting on certain parts of the conversation and can we replay how the how project evolved? In short, all of this is possible with Wave – and it's fucking awesome.
With Google Wave you have the ability to create posts, and have people add and respond to different parts of the dialogue. You can upload files like images, which is important for brainstorming a photo project, where the concept is always the most important thing (I think). The concept of the person being photographer, the concept of who they are, how they are perceived by the world, etc. With Wave a person can sketch out an idea (for posing for example) and upload it directly to the Wave. Everyone can then visually see what they mean and thereby we maintain momentum in the brainstorming process.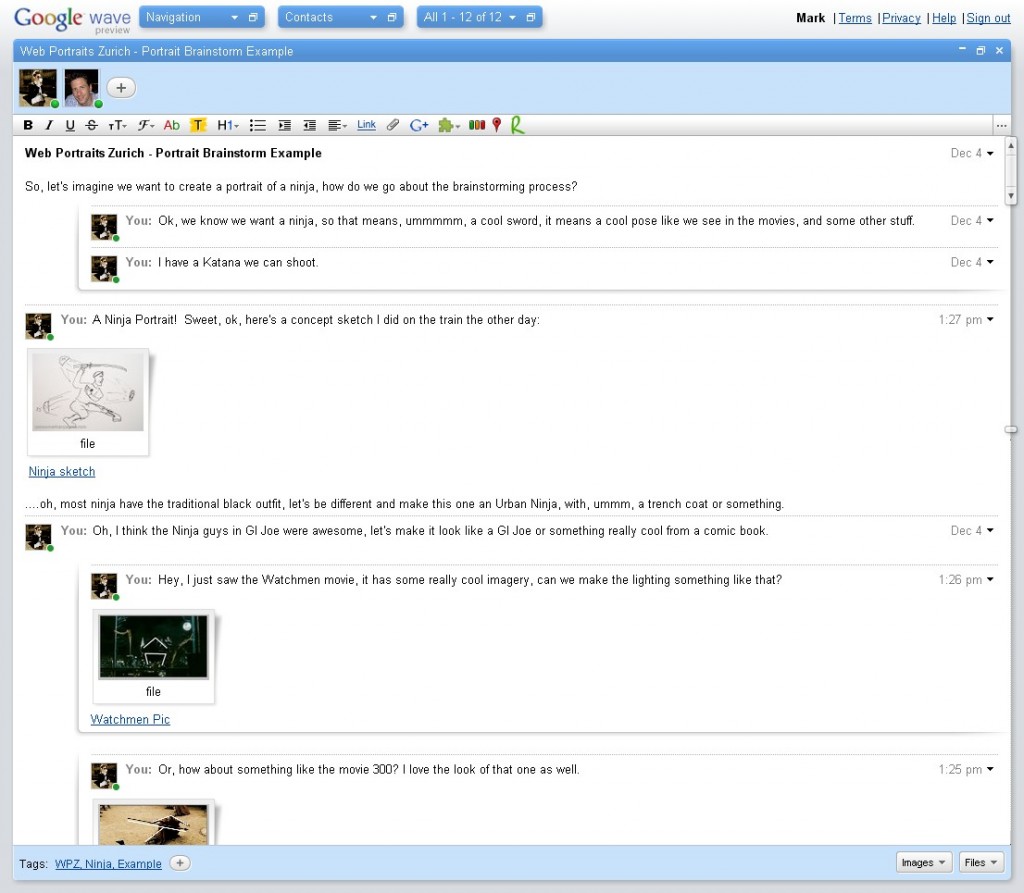 I started out with an example Wave to illustrate the process. This was an attempt to recreate the brainstorming process I went through to create my Urban Ninja images. With Wave I can upload sketches, concept images from Watchmen and 300 (a significant inspiration for this set), and you can see all right there on the screen how the idea evolved. People can then discuss about the concept for a portrait, post example images (like a scan from a magazine) to illustrate the type of look they want, and then we can directly discuss how to create it in reality.
The Future
Google Wave is an awesome product. I don't say this often about we technologies. Often "new" are just regurgitated copies of a copy of a copy of an old idea. I feel that Wave is more innovative than the common "new" web thing (like Facebook), but what I see in my head is even better than what I've described so far. Think Android and Chrome for a second. Android is the open-source mobile operating system Google has developed for devices like smart phones. There's the Droid, the HTC, that run on Android, and that's only the start. Android can be used on netbooks, and soon on web tablets. This is the perfect combination in my mind for the creative professional who want's to network.
Imagine a touch phone or net tablet running Android with Wave as an application, allowing you to interface directly with other people on your creative team anywhere in the world. Imagine creating and changing lighting diagrams intricately and posting concept sketches and having a creative director on the other side of the world adding notes. Imagine doing this on your computer at home, on the move running around during the day, and doing online conference calls to shore up all the detail. I think the possibilities are fantastically awesome for Wave and the future of mobile computing.