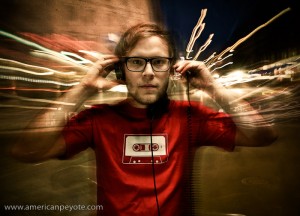 I shot Lukas for the Web Portraits Zurich project some time ago, and I'm finally producing some finished portraits from the shoot. Lukas runs Guzuu and is a fixture in the Swiss web community for his unique visual style. Like many people I meet in the web/startup scene, he's not just into launching companies, but also has a creative side. In this case, Lukas likes to DJ in Luzern and runs an internet music label (LittleJig.com).
I thought for a long time about how create images of Lukas, I could have just composited in some graffiti and called in a wrap, but then the images would have looked too similar to what I created for Mathias, and my sense for photographic exploration was honed in the academic research world. In Academia the key driver is to do something different, start with what you learned from the work of Bent and Hagood on Active Fiber Composites (AFC) and do something slightly different, evolve the idea a bit. Similarly, I wanted images of Lukas which have more movement and motion elements in them than with Mathias. I wanted to take some elements from my experience dancing in clubs and other DJ images I've seen on Flickr, and combine it with the visual style I've been developing. This meant light trails, streams of light created from the headlights of moving cars and night scenes of the streets. So when I went to UXCamp Europe 2010 in Berlin, I took some extra days and walked around Berlin, shooting long exposures at Rosenthaler Platz and other locations to generate the necessary texture images for Lukas.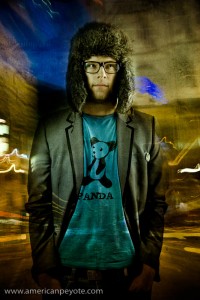 When I'm dancing in a club I like to loose my mind and let my body get connected to the music and the vibrations in my soul. It's a very personel thing, rather hard to commuincate visually, but I figured I should at least try. A key here was to let the light trails and night scenes move around Lukas, not dominate his image or allow key elements to be lost in the shadows. I'm getting back into painting at the moment, so I had an eye for adding abstract visuals from the night which are probably more like brush strokes than elements from Berlin, but in my head it seems to work.