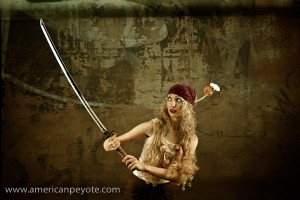 A little while ago I started networking on with models on websites like Model Mayhem and Stylished to organize some shoots. One day I was reading my email and saw a contact from Alexandra (MM# 809690) on Model Mayhem, she liked some of my shots of Amber and we organized a TFCD shoot. What follows is an article on my approach to organizing ideas and lighting scenarios for the shoot with Alexandra. I took a project management based approach in this case. This included a pre-shoot meeting, concept development, and laying out all the ideas, resources, and equipment in a mind map project file. Organization overkill for a basic TFCD shoot? Some will say yes, some will say no, and some will have no clue of the appropriate response.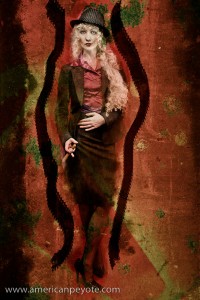 Pre-Shoot Networking
A Time For CD (TFCD) shoot is the digital incarnation of the Time For Prints (TFP) concept developed in the film area. In the purist form this means that a photographer and model work together, both contributing their time and talents free of charge, and in the end both use the resulting photos for their respective portfolios. In this particular case Alexandra (the model) contacted me (the photographer) via Model Mayhem. We discussed a few details and expectations via email, and then met in Zurich one fine Saturday afternoon to discuss concepts and logistics in person. During this meeting we decided to shoot three photo set concepts with different outfits in my studio. Those concepts were…
Basic spring dress
Business suit
Hippy Ninja – Barbie Hunter
The spring dress and business suit ideas were basic, safe concepts, sure to result in some usable images. The Hippy Ninja was a riskier notion I wanted to work with – an adaptation of my Urban Ninja photo set.
Photo Shoot Project Planning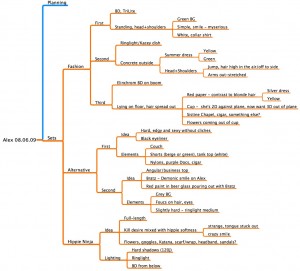 There are two extremes to the approach of organizing a photo shoot. On the…let's call it Conservative end you have a photographer planning each and every detail of the shoot from start to finish. On the…let's call it Liberal end, you have a photographer showing up with a camera and lights and doing everything "in the moment." The former sounds calculated and boring, the latter a romantic vision of what a creative photographer "should" be like. I'm a mix of the two, and I happen to know that the best example of Gonzo journalism ever written: Fear and Loathing in Las Vegas, was not written in the Gonzo sense of a reporter furiously filling up a notebook and sending off directly to Rolling Stone for publication. Fear and Loathing was a great short story which took a lot of work to translate into a novel. It's easy to be creative and spontaneous in "the moment", but translating a vision into a solid tangible photo concept is another story. So I just did what I do best. I took my project management skills honed in the academic research world at ETH Zurich and EMPA and built up a project plan detailing all the shooting concepts and resources required to complete them using a little Computer Aided Creativity.
The photo concept stage started with our first meeting between myself and Alexandra. We came with our ideas of what we wanted and came to a middle ground. I took the notes from my meeting with Alexandra and started creating a mind map on my PowerBook. I used MyMind to list and then organize all the elements of the shoot, listing the photo ideas, what would be needed for each concept, the lighting style I wanted, and my available resources (cameras, lights, etc), and finally what I would rent or need to buy for the shoot. The mind map isn't necessarily a rigid plan for the shoot, rather it's used here to collect and organize all the ideas. Since I'm acting as financier, creative director, photographer, and post-processing artist, I can change the game plan as needed. The organization of ideas is useful so that way I remember to buy a couple of Barbie dolls to remove their heads for the hunter necklace, in addition to buying fresh flowers for the Ninja head dress. Although I love my Minolta 7D I rented a Sony A900 and the Zeiss 24-70 lens from GraphicArt in Zurich. Why? Well, mainly because I'd been using a Minolta 7D for many years and now wanted something with better resolution, auto-focus accuracy and dynamic range.
Camera: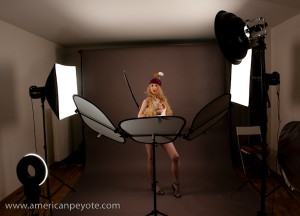 Sony A900
Zeiss 24-70mm
Lighting Kit:
2x Elinchrom BxRi 250ws strobes
2x Portalite softboxes
1x Elinchrom beauty dish
2x Sunpak 383 flashes
1x Kacey Beauty Reflector
1x Orbis Ring Flash Adapter
1x Lastolite TriLite Reflector kit
Skyport and Gadget Infinity radio triggers
Photo Concept: Color and Lighting Design
The three different looks would require different background colors and lighting designs. My backgrounds included dark green, deep red, and storm grey.
Summer Dress
Yellow summer dress with different scarfs (picked up at H&M and from my closet). for the spring type feeling I went with my green background and main lighting via the BxRi flashes using a softbox and beauty dish. We also added a deep red scarf and a few hats. The lighting scheme was to use the BxRi flashes, a large softbox light with the beauty dish for some directionality, giving some deeper shadows and better definition on the skin. The dish also provided nice sort of hard shadows over the brim of the hat to form a vile over here eyes. Lastolite TriLite reflectors were used to add fill from beneath.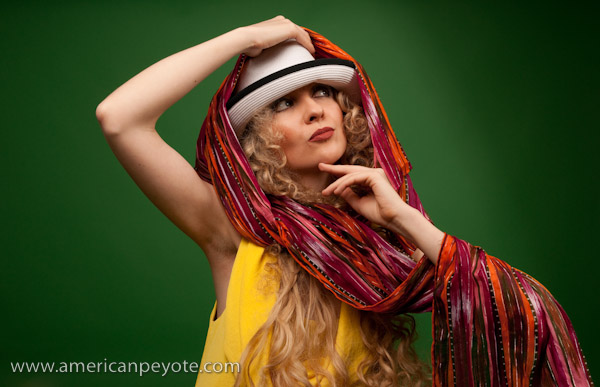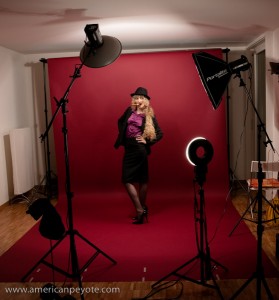 Business Suit
Here I shot with a deep red background, contrasting with the black suit Alexandra wore and giving a moody feeling. I pulled the cushion from my couch for Alexandra to lounge on and we also did standing shots. For these shots I used a beauty dish, softbox, and added fill with a Sunpak 383 in an Orbis ring flash. I setup the softbox on a boom up high with one BxRi. The second BxRi was in a beauty dish on a boom and used as a shaping and fill light to create some moody shadows and balance out the light from the softbox. The 383-Orbis light was used to fill in more of the dress, as it was a dark fabric it needed more light to define the texture.
Hippie Ninja – Barbie Hunter
At some point in the concept stage I remember thinking something like, "It would be sweet if she were a Ninja hunting Barbie and Bratz dolls and then made a necklace from their severed heads." Here I wanted a harder look, and deviated from the softbox-beauty-dish combination. Two softboxes were placed directly perpendicular to Alexandra, creating definition on her arms and side (think Joel Grimes). The TriLite reflectors added fill to her front, and a Sunpak 383 on the lowest setting in a Kacey Beauty Reflector was used high in the front.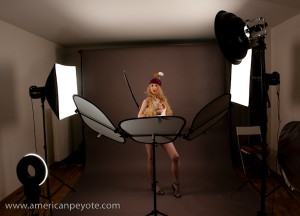 Post Processing
Alexandra originally contacted me because she liked the processing work I do with layered texture techniques. While I made it a point to stay true to these desires, it was obvious that all these images didn't necessarily "want" to be textured with concrete and graffiti layers. Yes, you read right, I listen to the image while post-processing, the colors and shadows speak to me and we build the final image together. No, I don't do drugs, I just listen to the rhythm of the world. In the end I worked on the images Alexandra chose for her portfolio and applied the urban style I like to play with. However, for many images I left them mostly true to the in-camera look. Naturally I modified the shadows and color feeling, but for the Barbie Hunter images, I wanted Alexandra to stand out – contrasted with the Barbie Head necklace.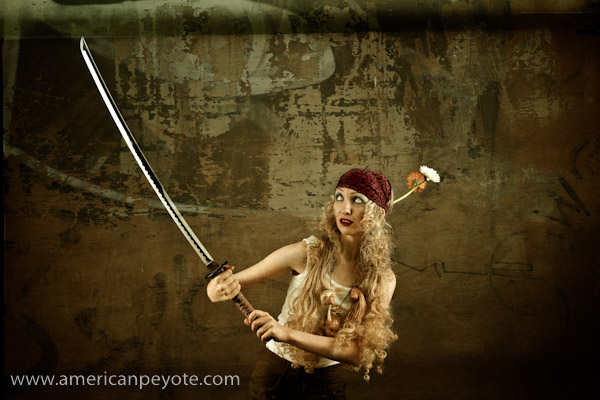 Wrap-Up
Shooting with Alexandra was pretty cool. We did a few safe image concepts and then moved into the experimental territory with the Barbie Hunter. I loved doing the pre-shoot planning and concept design. The more time you put into pre-shoot planning, the less you have to worry about during the actual event and everything will just go smoother. The Elinchrom BxRi flashes are awesome and the Sony A900 + Zeiss 2470 is a sweet combination. Many people will tell you to buy the more powerful 500 ws strobes, but the 250 ws strobes have a fast recycle time and provide more than enough light for my current studio setup. I got Elinchrom strobes from Profot in Switzerland.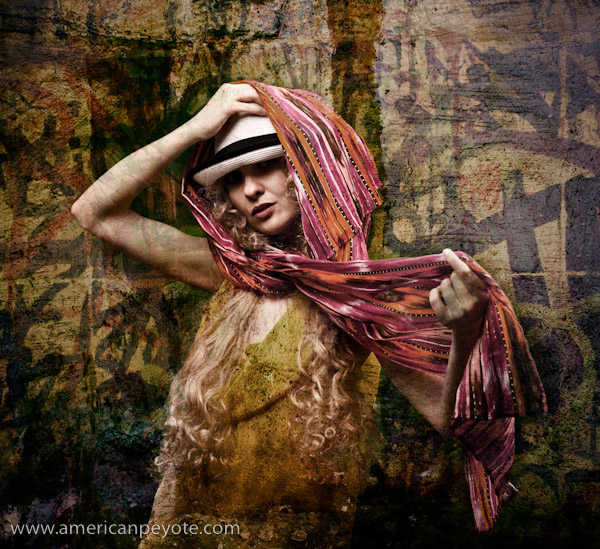 What comes next? A photo shoot with Margarita…