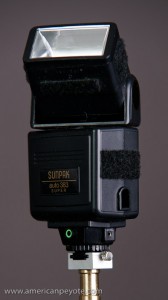 There are many classic things in the camera world. Classic cameras, lenses, shades, etc. But if you're starting out (or well-established) in the off-camera flash mindset, you should know about the venerable Sunpak 383 Super. Sunpak is an interesting company, they basically make electronics, and have a long history of producing camera flashes at affordable prices. The 383 is a bare-bones device. It has no zoom head, takes 4 AA batteries, has a swivel head (with tilt) and 5 levels of power adjustment (down to 1/16th power). It also sports a nice little plug for a radio trigger and two-prong outlet for a Sunpak battery pack. The 383 is light, compact, and reliable.
The Sunpak 383 is my general go-to flash for travel, mountaineering and location shooting. If it gets dropped in the ocean or falls off the side of a mountain I won't cry about it. If I lost my Sony F58 it would cost over 500 CHF to replace. For off-camera type use it's a compact workhorse that you can easily toss in a camera bag or large coat pocket. I've taken my 383 hiking up Mt. Santis and on failed ascent attempt up Balmhorn in Switzerland. On the latter adventure there was ahhh, lighting and a quick retreat involved when I had the bright idea to do a night solo ascent in unstable weather. After the weather moved in I took to shooting a snail on the trail with my 383 until lighting started popping in the trees above my head and I decided it was time to stop doing stupid things like night mountaineering.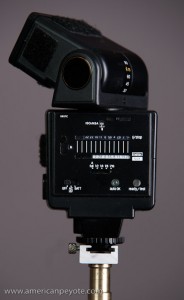 I also use the 383 in the studio with my Elinchrom BxRi flashes. Generally I have the Elinchroms in softboxes and I use the 383 with my Kacey Beauty Reflector. The 383 also pairs well with the Orbis ringflash, either on or off-camera. When I shoot concrete walls they often benefit from some fill light. For this I pair the 383 with my Orbis ringflash and put the 383 on a Gorilla pod.
Because of the analog power setting on the back, it's easy to adjust the power level without looking at the back of the flash. This is very nice if you have it up on a boom (as I often do) and can't see the back of the body. This makes it easier to adjust your light settings and concentrate on shooting instead of fiddling with little black boxes.
The classic 383 Super is generally available on the used market, either on eBay or at places like Keh.com, Adorama, or B&H. The prices are bit crazy since the flash became Strobisized (but still affordable) and if you're paying over 80 USD, you're probably paying too much. I found one used in like-new condition at a camera shop in Winterthur, Swizterland for about 10 USD. Since being discontinued sometime ago the 383 has been resurrected as a TTL version with manual settings possible. For the money, I see no reason to get the TTL version unless you want it for TTL usage. You also have the option of getting a Sunpak battery pack and can then power your 383 with a short charging time and shoot all day long. Basically, the 383 is a great flash to start with when learning about off-camera flash and I highly recommend picking one up if you find it at a decent price.