In the age of digital cameras, new gimmicks and trinkets are released every week.  Mega-autofocus-crazy-byte products from Canon, Nikon, Sony, Ricoh, Olympus, Leica, Panasocnic, and a multitude in between like Fuji give one the option of any camera one's heart desires.  Memory card capacities double every couple years or so and the cost of storage is insanely cheap compared to just a few years back.  Still…the management and backup of memory cards is generally a problem, especially when traveling.  You can't see which pictures are on which card, and backing up to a laptop means physically sitting down, having a computer with you, and the time to download your images.  There are portable hard drives and image viewers like those from Canon, Jobo, etc., but many times these are a tad more expensive and more flash than utilitarian.  Many times the ideal design solution is one thought up on the outside of the large corporations.  In the case of infinite storage, the
Hyperdrive
line of memory card backup devices really excels at doing what it was designed for.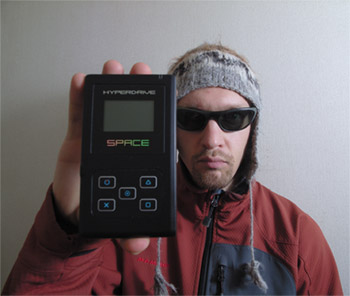 Problems arise when traveling and shooting digitally, especially with with multiple cameras.  Adding a laptop to your travel accessories just to backup images is a big waste of space and weight.  Memory cards can fill up incredibly fast, and nothing sucks more than not having free space to get that cool shot that's happening right this second.  Backup in the field is a primary concern of any digital image maker.  One of the really useful digital gadgets that one can use to store images from SD, MMC, Compact Flash, and pretty much any digital card you can imagine is the Hyperdrive Space – not to be confused with the mythical hyperdrive engine which allows space travel at speeds greater than light.  The Hyperdrive is a bare-bones storage device for backing up images from memory cards.  The Hyperdrive is basically a notebook hard-drive enclosure with a battery, card slots, and LCD screen.
I bought my Hyperdrive just a week before flying to Tokyo for three months.  The Hyperdrive with a 120 GB drive was the perfect solution for backing up images from my Ricoh GRD while traveling.  I have a laptop and am continually trying to free up harddrive space.  With the Hyperdrive I can backup 1 Gigabyte memory cards in a minute or so and not have the added worry of taking my laptop everywhere.  When I need images, they're right there on the Hyperdrive.
The LCD screen displays basic information.  It allows access to which folders are on the drive, you can assign the name of new folders, check how much harddrive space is available.  So, no, you can't view stored images on the Hyperdrive Space.  The Space is specifically for backing up images, not viewing them.  I download everything from the card to the Hyperdrive, choosing an appropriate file name for the folder, which helps with Digital Asset Management (DAM).  I now have a portable catalogue of all my images.  Assessing the images is awesome and easy.  For posting to my blog or other things, I just hook up the Hyperdrive to my laptop, open up Photoshop, and work on the photos I want to use.  I save a copy to my laptop and post to the web.  This allows me to back everything up on the drive, copy any originals that I need, and not fill up my laptop harddrive.  When I get back to Zurich I'll do a full backup on a normal drive, but for travel the Hyperdrive is a super efficient bare-none one of the best accessories for digital photography I have.
The Hyperdrive Space is powered by an internal user-replaceable Lithium Ion battery.  For normal use, if you charge it once and then leave it hooked up to your computer for a while here and there, you won't have to worry about the batter running out.  A full charge is supposed to last for 100 Gb of data transfer and can be recharged via a normal outlet or by plugging the USB into a computer.
The only thing I would modify in the Hyperdrive design is the addition of doors to the card slots, which are open to the external environment.  For normal day to day things this isn't an issue.  You get a nice neoprene cover with the Hyperdrive, which protects it during normal travel.  Still, it would be cool to have doors to protect the card slots, or even better, the option of an external armor, like the kind available for iPods.
The Hyperdrive line has been extended since the first models and now includes the Hyperdrive ColorSpace, which was just released.  The Hyperdrive Color sports a high resolution color screen with full playback of stored images.  You can view histogram and exif info on the screen and even access RAW format images from various DSLRs.  Exactly which DSLRs I'm not sure of, the info isn't specifically posted on the Hyperdrive website.  Since the firmware of the Hyperdrive is updatable, presumably the most popular RAW formats will be supported initially, and new camera models would be supported with new firmware updates.
Even if all my cameras aren't supported, the addition of a color screen makes the Hyperdrive Colorspace pretty much the perfect backup device for digital photographers.  The Colorspace version without a harddrive is about $200, if I have spare funds later I might pick this up, but really, but I have enough gadgets at the moment.
So, to sum it all up – a review of my impressions: The Hyperdrives are small, download photos really fast, read any memory card and the harddrive is easily replaced.  You get the most value for your money of any of the other portable image drives out there.  The Hyperdrive is an awesome example of the benefits of the digital age for the entrepreneur.  Someone sees a need in the market and has the ability to fill that void at a cost less than the major companies like Canon or Epson or Jobo, who all have their own back up devices which are flashy and expensive.
I'll use the Hyperdrive when I'm back in Zurich for backing up pictures and not worrying about knowing which photos are on which harddrive.  I'm looking at picking up the Colorspace version, but it's not an absolute necessity for me at this time.  Now, if the color version had been out three months ago, I probably would have bought it.