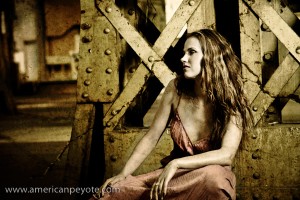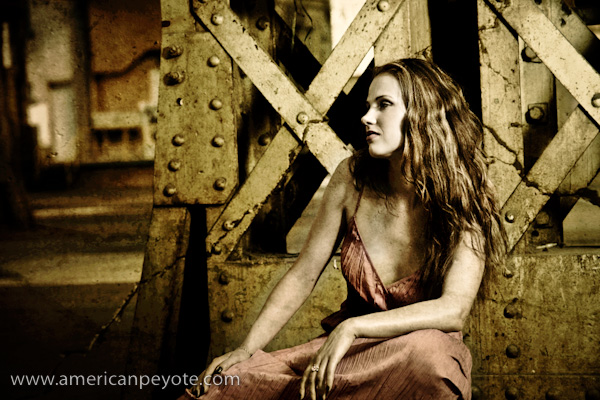 Margarita contacted me via Stylished.com (she's also on ModelMayhem: #1243386) and we setup a quick photo shoot in the urban area of Winterthur, just outside of Zurich, Switzerland. What follows is a break-down of the shooting process.
I conduct my photo shoots similar to the way one might assemble a portfolio of research projects. See, some research topics like Smart Materials can be rather revolutionary with a large potential pay-off, but risky. If you design a mechano-bioreactor using Electro-Active Polymers, you can (theoretically) grow and at the same time mechanically stimulate layers of skin or bone cells to engineer artificial tissue. But if you put all your energies and financing into such a risky topic, you run the risk of spending five years developing something which might not – in the end, be completely successful. So instead, you might also include less ambitions projects like active-mechanically conformable sensors for remote surgical robots and control gloves.
What's the connection from biomedical research to photography? In short, when planning a photo shoot you balance out the shot concepts. Start with ones you know will be cool and work out as intended, and then experiment and spend some time with new poses or lighting scenarios.
The Shoot Setup
I met Margarita in the industrial area of Winterthur to do some Urban Location shooting. I've shot here before when I was playing around with Urban Dry Tooling concepts.  I picked the location and worked up a few location ideas in my head, but I knew this shoot would be more spontaneous than, for example my previous studio shoot with Alexandra. Margarita came in a car with herself, a small wardrobe, and her cousin on a cool motorcycle. Since the shoot would be more flexible and off-the-cuff, I planned for a small location lighting setup. The weather was beautiful with strong afternoon sunshine, and I just needed lighting to be mobile and produce the desired effects.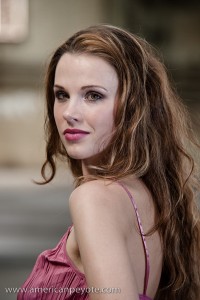 Camera:
Sony A900
Minolta 7D
Sigma 70-200 HSM
Lighting:
Sunpak 120J
Sunpak 383
TR-II battery pack
Kacey Beauty Reflector
Orbis Ring Flash adapter
Gadget Infinity 16 channel radio triggers
Margarita brought three or four different clothing combinations. So, essentially she defined the initial visual concept via the wardrobe and I placed her in the right urban location to full define the shot. We ended up with four strong looks including: Jeans and T-Shirt, Elegant Dress, Form Fitted and a Fox Head, Urban Chair, and Urban Cowgirl (woman).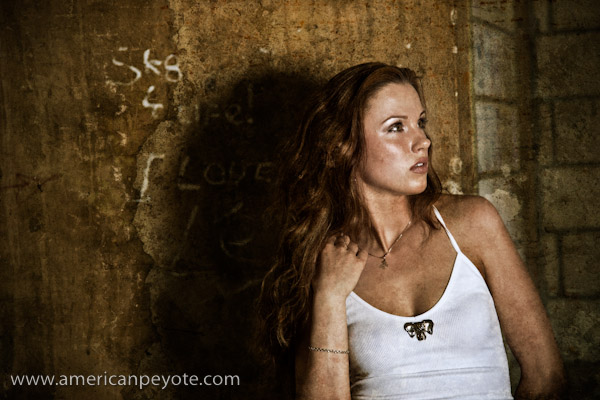 Jeans and T-Shirt
We started with a jeans and T-shirt look in an old factory-turned-parking-garage. The simple wardrobe would work well with the processing I had in mind and let Margarita be the focus, not her clothes. This would give me an idea of how she posed and carried herself, and make subsequent shots come out better as I would know more how to direct her, already having a feeling for how well she could direct herself. For lighting I setup a 120J in the Kacey reflector on a stand, this produced a nice directed, slightly hard light source, placed 3-5 meters away from Margarita. First we shot against the cinderblock walls, some of which had cool scribbles. Then we did a few shots backlit by the sun from the large windows. I shot with the Sony A900 and Minolta 7D. The 7D with the lower pixel count (6 megapixels) produces files with a different shadow texture, and can work better than the 24 megapixel A900 for certain looks. These shots leant themselves well to grunge texturing in the post-processing stage.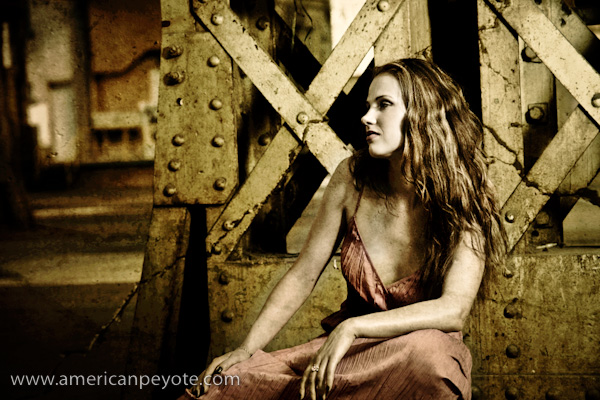 Long Elegant Dress
After the first set Margarita chose a long, elegant dress. This was perfect to contrast against the large steel columns which support the roof of the old factory. We did a few distant headshot captures, then I posed Margarita against one of the steel columns. The 120J-Kacey combination was used in both instances, first to add just a tad of fill on the head shots, and then to illuminate the scene from the side. This allowed me to capture the texture of the steel and also give excellent light on Margarita's face and upper torso. As I was using a lot of natural light, so I could open up my aperture and diffuse the background behind the steel column. This added a nice dimension to the final images.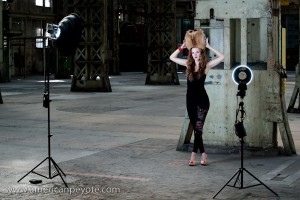 Form-fitted and a Fox Head
For this shot, we were really experimenting. Margarita came out dressed in a form-fitted top and leggings. Additionally, there was a fox handwarmer. This had a certain strange appeal, so naturally I approved and we used it. For lighting, I setup the 120J-Kacey dish, as well as a Sunpak 383 in the Orbis ring flash. I wanted a hard sort of steel look. Generally convention dictates that the photographer should know what they want and direct the model in a specific way to produce great results. But to be honest, the foxhead was unexpected and we set about experimenting with different looks. Fox head on her head, to the side, is it the main focus of the image, is it a concept, does it "mean" something? I don't know if anyone can answer these questions, and probably they require no clarification.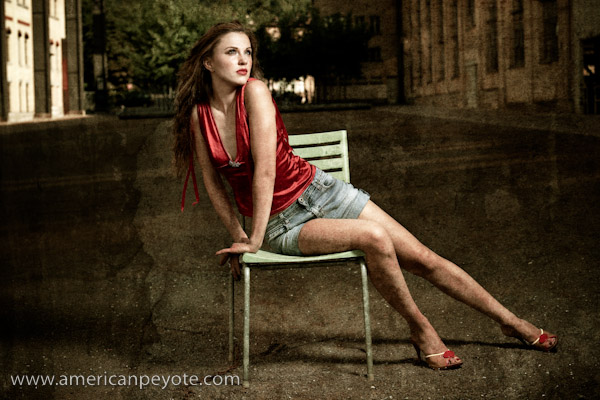 Sitting on the Chained Chair
Winterthur is like a giant kick-ass photo studio. Next to the old factory-turned-parking-garage there are some very posh apartments, which have chained chairs sitting on the rocky courtyard. This location gives a nice feeling with the desolate gravel ground and random chairs, it makes me think of a Pink Floyd video. We did two more sets in the setting sun and shade of the buildings, which stretched across the courtyard. In the first set Margarita sat in a chair and I bumped the 120J up to full power and placed it just out of frame in the Kacey dish. Naturally I wanted to balance out the exposure of the dying sunlight in the background. Again, I can't say enough about the awesomeness of the Kacey dish, it's a tad large to take around but well worth the inconvenience. It's awesome on location, and when you use it with a Sunpak 120J and TR-II battery pack it's a flexible, very powerful and fantastic lighting tool. But we were not finished, Margarita had a final look she wanted and ran off to change.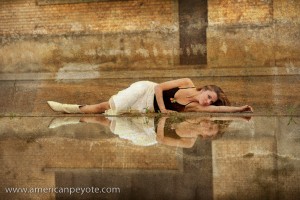 Classic Urban Cowgirl
Margarita came back dressed in white with fun cowgirl boots and the same fantastic smile from the past two hours, undaunted by the time we'd spent posing. For this set I left the flashes standing at a distance and used natural sunlight, which was being reflected off of the floor-to-ceiling windows of the posh apartment buildings where I wish I had a place. In the gravel courtyard were a few shallow pools, and I used the full capabilities of my Sigma 70-200, shooting images of Margarita posing across the water. Here I got down low to the ground and pick up Margarita's reflection in the pool.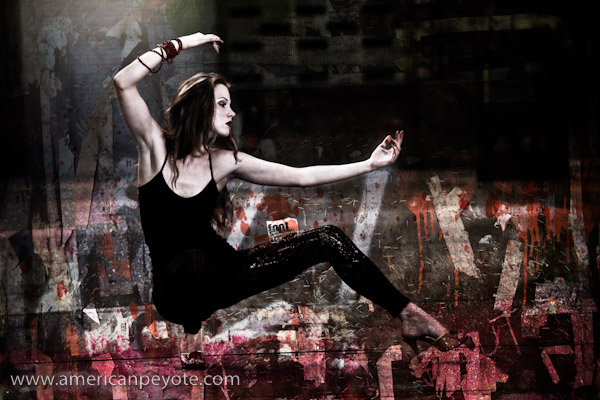 Post-Processing
The combination of Margarita and the industrial background worked nicely with my imagination and visual tendencies to blur the divide the line between visual reality, painting, and graffiti. When processing photos from a location shoot I generally use textures from that specific location. I've spent a few days shooting around the old industrial walls and cracked concrete in Winterthur and have a nice library of low-rez 6 and high-rez 24 megapixel texture files to work with. The post-processing philosophy included blending concrete layers with Margarita and manipulating the shadows of the images.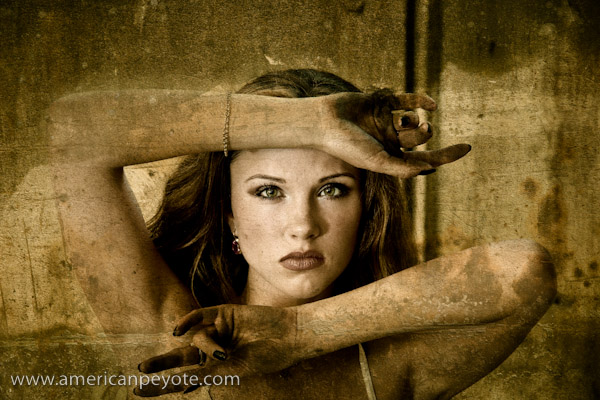 Wrap Up
Margarita is a pretty awesome model to work with. She has a dynamic personality and has a good sense of form and posing. Margarita's cousin came along for the shot. Some photographers shy away from the idea of a model bringing along a friend, but I think it's great. Margarita and her cousin discussed poses and she could watch from the back and throw out suggestions in Lithuanian while I was shooting, it was awesome.
My Sony A900 User Review
My Kacey Beauty Reflector Review
Kacey Beauty Reflector – Kacey Enterprises
Kacey Dish on Location  – Swiss Strobist