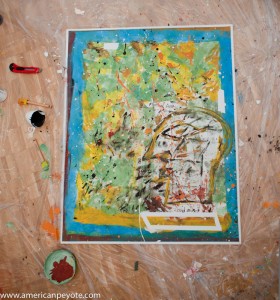 This weekend I'm heading to 1 Day of Art in Copenhagen and I'm sort of freaking out. To recap, I won the 1 Day of Art Creative Invite offered on Talenthouse, sponsored by (t)here magazine and Hotel Fox. The point of the adventure is to create a body of art in 24 hours for the magazine. There are only a few things I know for sure, floating around in my conscious brain, I have a flight to Copenhagen and a confirmation at Hotel Fox, all else is basically a mystery. When I asked what I should bring along, I was informed,
"bring what you need to create.  camera. paint spray paint glue  sticky notes paper sketch books"
Naturally I have most of these things on hand, but shopping for paints is ten time more fun than shopping for shoes, so I headed to the stores to pick up some paints and accessories for the trip, but now my heads are filled with adrenaline and sort of freaking out. You can't think too much here, because you don't know what's coming. What will the Assignment be? We must prepare ourselves for anything, the future is a blank page and I'm walking into it with a curious anticipation I've never felt before. I have no game plan when it comes to art. I like the moment of creation to be unconnected from planning and science. I don't plan out paintings, I don't imagine how colors should connect with shapes, I just let myself fall into a trance state and let it all flow out. So it's sort of hard to know what to take along. However, I've accepted the flight ticket and will now enjoy the ride.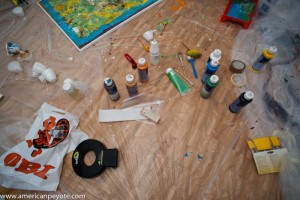 My take-with list includes:
Various tubes of latex paint, rollers, sponge brushes
Paint and Manga markers
Sony A900, Sony F58 flashes, Orbis ring flash adapter
A head full of nervous anticipation
I don't want to come off as a kindergarten-hack painter in Copenhagen, but I guess the best way to deal with these emotional insecurities is with a healthy cocktail of unearned confidence and a generous quantity of "just be yourself." I was picked based on the Lazy Art I submitted, so logically I just have to do what I was doing before, and resist the urge to rewatch Basquiat and attempt to play myself off as some nouveau uber-awesome creative artist, because at the end of the day, I'm nothing more glamorous than a Doktor of Science. I should be prepared for anything. However, the airline has a baggage limit, and you're always improvising with what you have anyways, no matter how much stuff you bring along to an event or setup in a laboratory. Whatever I create at 1 Day of Art it'll probably have some elements of illustration, painting (color throwing) and writing. I can't really separate these things, they all come up in the process and it seems like a natural thing to combine  them all. I'm uber excited to see what happens in Copenhagen, a city I've never been to and an environment I've never experienced before, it's primed to be an awesome time and I'm still in awe that it's happening.